Le Couturier House of Alterations
Bridal Wear Alterations
1738 Massachusetts Ave, Cambridge, MA 02138
Claim Listing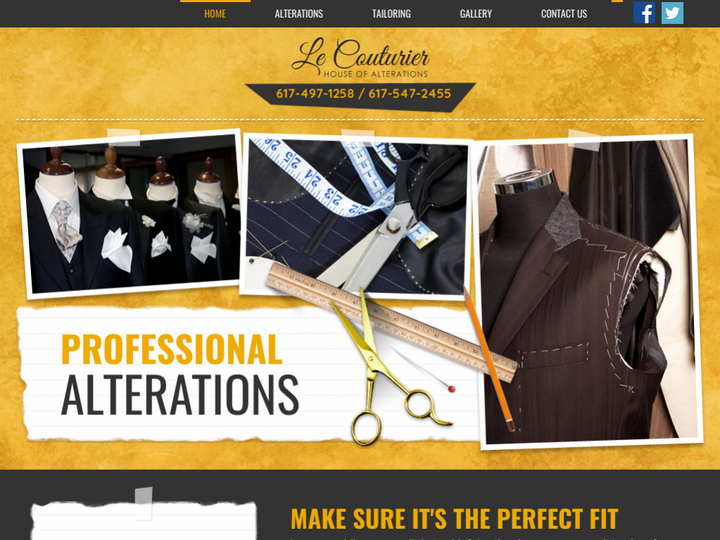 Company Description
Is your wedding gown a little too big? Are the sleeves on your suit too long? Looking for a custom-made a shirt? Our professional tailor will carefully size your clothing item and alter it to fit you perfectly.
Review & Rating

Good service, but it took long for my pants to get altered (later than they promised)

Dick Robasson saved my wedding. 3 weeks before my wedding I picked up my dress from another tailor and it was, to put it mildly, not what I had envisioned. On a friend's recommendation I came to Dick. When I told him how quickly I needed a wedding dress entirely reworked I thought I saw the slightest hint of a raised eyebrow but he assured me that it would not be a problem. Over the course of the next few weeks and several fittings Dick took down the work of the previous tailor, repinned the dress, basted it, and finally created a completely stunning wedding dress. He workmanship was excellent and he was attuned to small details about the dress I would never even have noticed. He was so accommodating with appointments and working around my hectic schedule. I cannot recommend highly enough.

You pay your weight in gold for simple things as pant hemming ($17). Then you're given a 2 week deadline that turns into 3 when you have to call to find out things aren't ready. Finally you end up with a poor quality job: zig-zagging seams, poorly done finishings that fall apart after a couple of uses, etc. I also left a sweater to add some elbow patches; paid over $30 for it, got it back one and a half months later after they missed 3 consecutive deadlines for the job and could not believe the dreadful outcome: the fabric in one patch was damaged and the patches were at obviously different heights on the sleeves. Never again!

The tailor took in the straps too far that the whole dress did not fit in the bust and pinched in the arms. I had originally only planned to have it shortened, which he did fine, but he suggested the strap change. Since he had seen my body in the dress, I trusted him. This was a huge mistake. I spent the weekend in Dallas running to a new tailor to un-tailor most of his bust/strap work. Extremely stress inducing, worst $80 I ever spent. 1 extra star because I should've allowed more time for the process and maybe he would've fixed the issue.

While I am very happy with how my suit pants fit now, it did take two tries with Le Couturier to get them right. Service is perfunctory but acceptable, though it was a bit frustrating that they did not call when my items were ready for pickup. Would recommend if you're looking to get men's clothes tailored and are within walking distance.

Excellent service and work. Suit wasn't initially ready when I went to pickup, but he had it ready the next day. Perhaps a bit pricey compared to others in area, but for quality received, worth it in my opinion.

Does a good job. However, do not expect welcoming service or a phone call to let you know the items are ready.

Emergency alterations no problem. Impeccable workmanship

It's not the cheapest place in town, but this is a dedicated tailor who really knows what he's doing! Not really comparable to those dry cleaning/alterations mashup hustles. The tailor here pays attention to the geometry of the entire garment, adjusting the whole sleeve or whole pant leg when hemming so that things taper nicely and don't look hacked together or chopped. Same for taking in a shirt. This is one of the best tailors I've been to, highly recommended.

The staff was friendly and upfront about my options. I liked that they were able to text me when my pants were ready and that they were ready a few days early. The work was great and the prices seemed fair.

Authorize your self with either of these to view contact details, your information will not be shared to any one
Newsletter Subscription for Virtuous Reviews LLP
One more step and you will be subscribed to our newsletters
We have sent you a verification mail on your email id, please verify it.