Peachtree Bikes
Used Bikes
4540 Roswell Road Sandy Springs, GA 30342
Claim Listing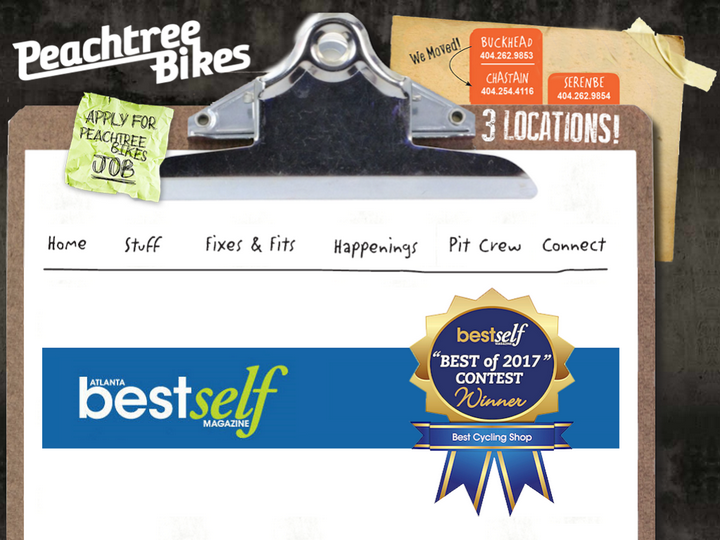 Company Description
Road racing, mountain biking, commuting - if it's got two wheels and it's powered by muscle, we've ridden it. If it's bike-related schwag, chances are we've tested it. With locations in Serenbe and Chastain, Peachtree Bikes is the premiere Atlanta bike shop for all your cycling needs. No matter your style - no matter why you visit Peachtree Bikes - you'll get high-quality products, top-gear service, and a staff full of know-how.
Review & Rating

Too many frustrating experiences with this place! I have an S-Works mountain bike and I used to go here because it was the closest Specialized Dealer, but I got fed up with the nonsense and I'll never go back! They installed new crank bearings on my mountain bike and I took it back twice because it wasn't right. The first time, it had over a 1/4" of play in it. The second time, they didn't have the right washers/spacers on it. I ended up taking it apart and reassembling it myself with the correct parts (according to the SRAM diagram). I ordered an S-Works tire once and when I went to pick it up, he had the heavier Grid version because he said the S-Works tire wasn't available. I told him that I didn't want the Grid version, and if he had called me, I would have told him to skip it. (Thanks for wasting my time and gas!) I had them replace one of my cracked carbon rims... The rim they used has different graphics than my original rim and I have never liked it. If they had called ahead of time and told me, I would have bought a used one off ebay that matched the one I had! Which brings up a point - they say they'll call you when your bike is ready or when your part comes in, but they never do! And then there was the time when I had them replace my frame bearings... I called to see how it was going and the mechanic said he had taken the bike apart but he was quiting the company and they took the frame to the Sandy Springs store but some of the parts were still at the Buckhead store... What a nightmare!!! I'm done with Peachtree Bikes... I found another shop that's farther away, but the service is 100 times better!

Excellent service; I was very pleased with how they packed up my bike and the staff was very kind and explanatory. They were also schedule-conscious and upfront about the timeframe for work. Would definitely use them again if I needed someone to work on my bike in the Atlanta area.

Excellent service and prices. I bought a bicycle online and they kept me informed every time about the status of my order. They also helped us to pack my new bike for airplane travel and helped us to get it into a box with the right size so Delta wont reject it at baggage check-in.

Totally friendly vibe with no pressure to buy. Knowledgeable staff ready to help out however they can.

In August 2018 Dave looked at my pristine but badly fitting 56cm Giant Allegre 14-speed bought on sale somewhere 20+ years ago. He then put me on a 52cm Cervelo R3 with an Ultegra 20-speed group, the correctly raised and positioned seat, the correct length and angled stem and handlebars, and much more secure Zero Aero pedals. It was a pleasure to have him teach and encourage me while he fitted me perfectly on only the second road bike I've ever purchased. I'm loving this bike on my indoor trainer now but also looking forward to some cooler riding weather this fall.

Went in to quickly grab replacement SPD cleats, but even with 4 visible employees and only 3 customers in the store no one greeted me or ever acknowledged my presence. I finally tracked someone down after making my rounds through the store for a few minutes to get what I needed, but the employee seemed like he had more important things to do. I understand people have bad days and would write it off as such, but I've been to this shop at 3 different locations as they have relocated further north over the last few years and had similar experiences each time. I've had much better experiences at their shop located on Marietta Street and continue to go there anytime I need help with my Specialized gear.

Great local shop with knowledgeable and friendly staff.

These guys have always taken great care of me. Chuck is awesome and extremely knowledgeable. Excellent service and turnaround time. Good people all the way around. Great to have a local bike shop that I know and trust.

Good people, good svc. Will treat you right

We went to Peachtree Bikes to be custom-fitted for bikes, and to acquire bikes most suited for purpose (around town and beltline), and the service far exceeded our expectations. Chuck Prince was outstanding in all regards. He quickly guided us towards bikes with frames, tires, and gear counts that were both what I'd deem optimal for purpose and for our personal heights and frames. Despite it being a very busy Saturday morning in the shop, he was very patient with us and deft in choosing the right accessories to fit our needs, getting them installed on the bikes, and getting the bikes precisely adjusted to our heights, frames, and comfort. He went the extra mile in illustrating for us how to remove a tire for replacement, and custom packing a tube repair kit for us to attach to the bikes. To top it off he assisted us in carefully loading the bikes into our SUV for individual transports home. If you're looking for a white glove end-to-end experience, this is the place, and Chuck is your guy!

I've shopped there for over a decade, three location changes change, and they've always been top notch.

Opening Hours
Mon

Closed

Tue

5:00 pm - 9:00 pm

Wed

Closed

Thu

5:00 pm - 9:00 pm

Fri

Closed

Sat

Closed

Sun

Closed
Authorize your self with either of these to view contact details, your information will not be shared to any one
Newsletter Subscription for Virtuous Reviews LLP
One more step and you will be subscribed to our newsletters
We have sent you a verification mail on your email id, please verify it.