The Ash Center for Comprehensive Medicine
#85 in USA
#23 in New York
Physicians
800A 5th Ave, Suite 205, New York, NY 10065 USA
Claim Listing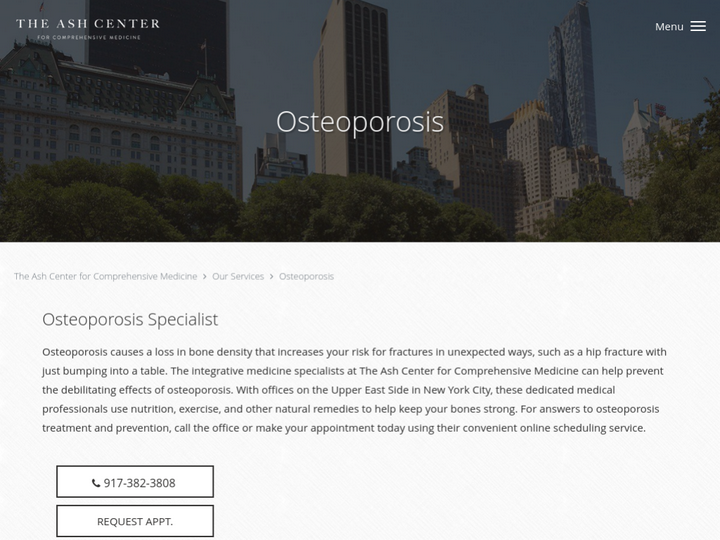 Company Description
The highly-skilled physicians at The Ash Center for Comprehensive Medicine offer their patients a truly comprehensive, patient-centered approach to medical care.
Review & Rating

Dr. Lyon is an excellent Doctor!

Dr Lyon and staff were very helpful!

Thanks to Dr. Gabrielle Lyon I've restored my energy, mood, skin, and gut health. She has given me a simple diet regiment and supplements necessary to function fully throughout my busy day. As an athlete and Personal Trainer this is imperative. Diet is no longer a mystery to me and I feel great. I've visited the Ash Center once now and look forward to upcoming follow-up visits. At first the office seems a bit tucked away in a large building among several other offices. Don't let this be a turn off. Once you arrive desk staff is incredibly kind and hospitable, the office is clean, has great light, and is comfortable, like a home. I highly suggest a vist to the Ash Center.

Very professional staff as well as extremely friendly. They got my issues resolved quickly and left me feeling great about the whole outcome.

Dr. Anthony Lyon and Dr. Gabrielle Lyon are experts, dedicated to their studentship and committed to caring for their patients from start to finish. I've implemented many changes due to their work, and my visits there feel like peaceful, healing time.

Dr. Gabrielle is more than a doctor, she is a true healer! Straight to the point but very kind. We need more like her.

Dr. Lyon is very knowledgeable and warm. He thinks outside of the box. My health quickly improved after several visits.

Dr. Gabrielle approached me with the utmost kindness and calm concern. She put me at ease, heard me out, and developed a specific protocol that would address my health goals. I look forward to going back and continuing my journey with her.

Great experience. Friendly and expert staff that was able to identify hard to find issues that was previously missed by other providers. Provided great care including a overall nutrition and exercise plan, cutting edge treatments, and the ability to do many in-house labs and procedures. Overall I am extremely impressed and grateful for such an expert team that made a large difference in my life, allowing me to operate at a high level. Thanks everyone.

The Ash Center is hands down THE BEST health center I have visited. I feel so lucky to have found this place. I have been to so many doctors who claim to "treat the root cause" of health issues but found no relief for years. Gabrielle Lyon is the first doctor to help me discover and treat the cause of my thyroid conversion and hormone imbalance issues. She has the best qualities a doctor could have –intelligence, empathy, curiosity, and open-mindedness. I genuinely look forward to visiting the Ash Center. All the receptionists and nurses who work here are so friendly and organized. Peter Roth, the functional health practitioner, is brilliant. Lyon and Roth take the time to answer my health and diet questions, in addition to designing a patient-centered diet and supplement to plan. The Ash Center has been the ultimate resource in supporting me to understand the complex factors that contributed to my ill health and how to treat them.

Authorize your self with either of these to view contact details, your information will not be shared to any one
Newsletter Subscription for Virtuous Reviews LLP
One more step and you will be subscribed to our newsletters
We have sent you a verification mail on your email id, please verify it.