Central California Blood Center
Others Services
4343 W. Herndon Avenue, Fresno, CA 93722
Claim Listing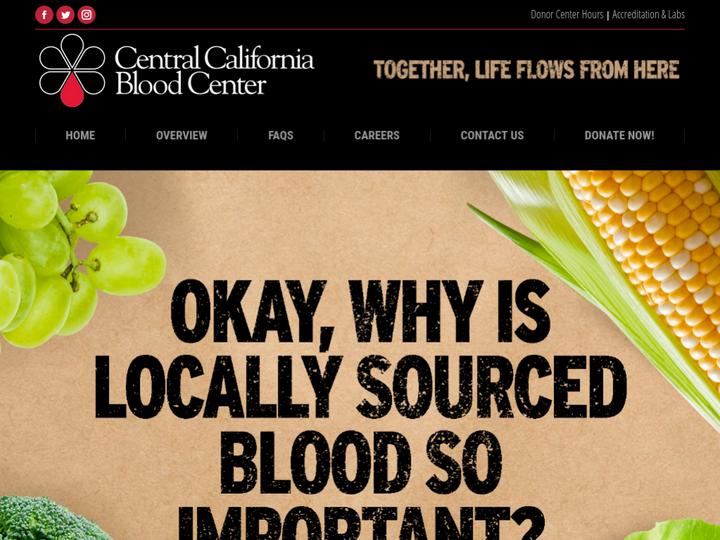 Company Description
Since the Central California Blood Bank (CCBB) opened on June 8, 1954, our Valley has seen much in the way of change and growth. We've grown, too, with a name change in 1995 to the Central California Blood Center (CCBC), new facilities and bloodmobiles to make donating blood easier. But one thing remains constant: the commitment we all share to keep the supply of blood flowing for the benefit of us all.
Review & Rating

My favorite place to donate. That's right, double reds baby!

Nice visit nice staff great experience

Nice facility and technicians working inside. Come for the snacks after your donation. If you have type O, they will call you when they want more of it.

I didn't time it, but the wait time seemed long. Once I was called and placed in an interview booth, I had to wait another few minutes for an RN to interview me. Total wait time was approximately 45 minutes. I was disappointed. Thank goodness, I'm just visiting a relative; I'm from another state. The snack room was unsupervised, so I was grateful that I was able to binge on junk food, which included ice cream. Wow!

I have never had a bad experience from them. They are always so friendly and I'm usually out of there in like 30-45 mins. Very clean and organized.

Central California Blood Center (CCBC) does important work for the community. The facility is nice, and the people who work there are nice. They treat you well when you are there. However, I recommend that you not give them your phone number. Recently, they have contracted with a telemarketing firm to cold-call the blood donors. For several years I donated blood here, and they used to call me with an occasional friendly reminder that I was eligible to donate again. Recently, however, I have been getting frequent calls from their telemarketer, whose people are aggressive in demanding that I make an appointment to donate blood. They don't take "no" or even "maybe" for an answer. In summary, CCBC is a good organization doing good work. But unless you like getting calls from telemarketers, you can't trust CCBC with your phone number.

Great building, great people, great purpose......food:'s just fine.

Got in right away. After taking all the vitals -I took answered all the questions on the sign in. After I was done I sat there for 20+ mins. no one. I walked around trying to find anyone. Finally someone saw me and we when back to the room. She started out with all the same questions--- I told her we did all this with someone else. She was VERY rude and got mad. I told her I wanted to see her supervisor … She just left. I finally told someone else and she just said oh well. I walked out and will never be back,,,,I have given over 5 gals at this PLACE!!!

The wait time before I even saw a nurse was approx. 20 minutes and I had an appointment. Once the interview started things went pretty quick. Then it happened. Sat down. Girl inserted the needle. Went through the vain. She had to pull it out to get the blood to flow. I though the need was going to come out my elbow. Half way through the draw the blood stopped flowing. This is where things got interesting. The nurse started fishing for the vain again. Talk about pain. I finally told her enough of that. Pull it out. She did. For the next 5 to 6 days my arm turned every color that is known to man kind. The bruise started at the crease (Elbow Area) in my arm and went all the way up to almost the top of my bicep. It was wide enough that is covered my arm from the outside to the inside. The pain was with me for approx. 3 to 4 days. I have been giving blood for years and have never had anything like this happen before.

I've donated blood, plasma, and platelets for over 40 years, at many different locations. This donation center is one of the most comfortable and has great employees. They nearly always have some kind of nice gift for donating like a t-shirt or coupon for a lunch or pint of ice cream. (Not that I donate just for the SWAG bag; hehe!) Like anywhere else, their nurses and others can sometimes get short with people or get too busy. They do sometimes get overwhelmed with donors who come by without appointments. That's okay, it means more blood to go around. Remember, you come here to help those in need. They do listen to my opinions, comments, etc. And that's good. I understand they will be getting a charger for electric cars pretty soon. That will be great for those of us EV drivers who donate. Thanks for what you all do. Honest lifesavers!

Opening Hours
Mon

Closed

Tue

5:00 pm - 9:00 pm

Wed

Closed

Thu

5:00 pm - 9:00 pm

Fri

Closed

Sat

Closed

Sun

Closed
Authorize your self with either of these to view contact details, your information will not be shared to any one
Newsletter Subscription for Virtuous Reviews LLP
One more step and you will be subscribed to our newsletters
We have sent you a verification mail on your email id, please verify it.