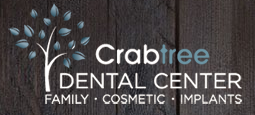 Crabtree Dental Center
Others Services
5010 El Camino Dr. Ste B, Colorado Springs, CO 80918
Claim Listing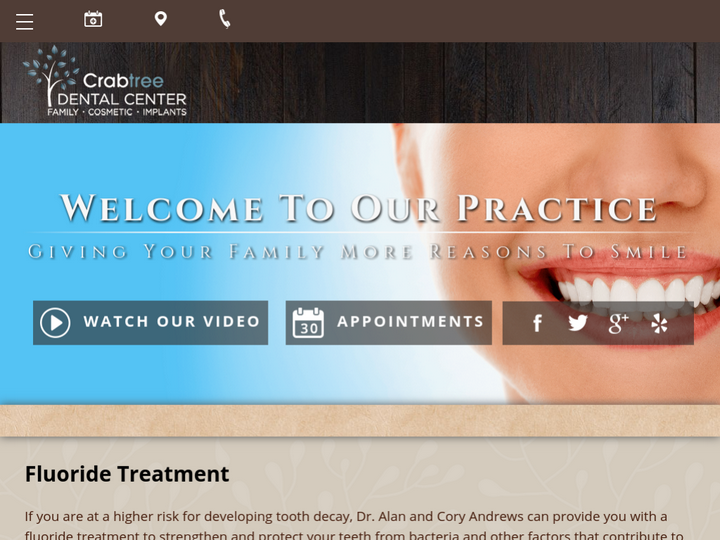 Company Description
We are Dr. Alan Andrews and Dr. Cory Andrews, the dentist brothers! We did our undergraduate work together at Metro State University and completed our doctorates a t the University of Colorado School of Dental Medicine. We are so excited to be here with our families in Colorado Springs! Because we are both fathers of young children, we understand the power of gentle dental care for adults and kids, and we love to see the smiles on our patient's faces after completing a comfortable appointment.
Review & Rating

Crabtree Dental is truly the best dental office I have ever been to, and I have been to many. Their customer service is impeccable. Stacy at the front desk lightens up the room with her pleasant demeanor. Not only that, but I have never had my teeth cleaned so thoroughly ever before. Most dental offices get you in and out without getting your teeth perfectly clean, but not Crabtree, I was amazed. The energy here is great and you won't be disappointed.

Everyone at Crabtree is so nice, from the moment you walk through the door! I saw how great they were with my husband first and needed a new dentist, so the choice was easy. They always check in and make sure you are comfortable and take time to explain everything. I do not get nervous about going to the dentist, but if you are someone who does I highly recommend Crabtree. They are so kind, sweet, and professional and will ease your fears.

I have severe anxiety and ALWAYS require medication but not anymore! This place is absolutely amazing. I had to have some major work done on my birthday last year and they remembered it was my birthday. They all greeted me with a happy birthday and a card signed by everyone and a gift card to Target. I'm pretty lonely on my birthday being a single mom and I cannot even tell you how special I felt that they remembered and made such a big deal about it. The staff is hands-down some of the best professionals I've ever encountered. I will never again go anywhere else and I'm super excited that Dr. Crabtree is young because if he retired I would absolutely CRY! He is fabulous with my children as well.

I found this dental office based on excellent reviews and they were entirely accurate! This is one of the most friendly and welcoming staffs I've ever come across. I highly recommend this office to everyone!!!

Things were fine in the beginning. Everyone was friendly and treated me respectfully. I was at my previous dentist for 20 years. I came to crabtree dental because it was close to my home and they had good reviews. My cleaning went smooth, I had to get 3 fillings. 2 were fine. The 3rd one i went to have filled in December Dr crabtree must have been over booked because he quickly drilled out my filling and left the dental assistant to do the actual filling (which I didn't think was a big deal because I'm not a dentist, but actually his job is to drill it and fill it. This should have been my first red flag). Directly after this filling i felt constant pain and sensitivity, I tried to schedule an appointment but the times available were nearly impossible for me to make it so I had to cancel and reschedule multiple times. Eventually I learned to deal with the pain a few months until I finally gave up to have it looked at again. I scheduled and apt, went it and the Dr was out of the office that day. So they just scheduled me to have it refilled before even seeing him. Went back to have it refilled and he looked at it a few minutes and just said "ok we will refill it, it chipped and isn't bonded correctly (because he had his assistant do the filling and not him). Well they had a hard time getting me numb (which is unusual for me, I am not a dentist so I didn't know that was a huge sign that my nerve was dying). they still continued and refilled it. Again, experienced pain ever since. When I explained my discomfort They would just say the filling was probably too high and needed to be adjusted. I was in horrible pain and nothing they were doing was helping me, the longer I waited the worse it got. Finally, I went to get a second opinion from another office. It turns out the nerve in my tooth is dying from the close filling and the inflammation. and it has been dying ever since the first filling that's why I had difficulty getting numb the 2nd time around. This was a quick and easy diagnosis for yh dentist because he actually took and x ray and tested the nerve. Now I need to pay 2k to have a root canal done. I am upset because not once did Dr crabtree check my nerve, test it with tempature, or even do an x ray. He never said a word about it. Causing me to suffer over months. I understand things happen and there was a risk of damaging the root when doing the filling. But Dr crabtree could have cared more and diagnosed me correctly so I didn't have to suffer for months. I will not be going back here.

I was refereed to this dentist from a group of people when they first opened, scheduled a cleaning, had a filling, received a welcome basket from them, on the surface was very pleasant and I was excited a found a dentist close to home I really liked. After the cleaning they scheduled my 6 month cleaning (6 months out from that date), long story short.... I broke a tooth last night, called first thing this morning to schedule a fix, was told it would be 4 days out (not really concerned about an emergency broken tooth) ... and I had a $50.00 fee on my account for missing my cleaning.... this fee was placed on my account for missing my 6 month cleaning last year. Pretty dishonest if you ask me, there are a lot of new dentists in town, its time for me to find one who's more concerned about my business, my broken tooth, and there customers then a $50.00 fee for not making my optional cleaning last year. Be careful, who knows what other sneaky tricks they have in store for you!

I was a patient of Dr Crabtree's for less than 6 months. I really wanted to like this place! They have a great little area for kids to play, a nice welcoming gift bag, free tea and cookies and I could make appts by text. However, my initial appt had me disappointed from the start. I made it clear to them that I was pregnant and they gave me a full set of X-rays even though I had X-rays done at a different dentist office less that 6 months earlier (I had to switch because they stopped taking my insurance). They didn't bother to ask for those records and the radiation I recieved from the X-rays made me worried that it may have caused damage to my baby. Anyways, I still went back for a cleaning which was good.. but watch out because they will ask if you want fluoride but they won't bother to tell you that it is not covered by insurance after age 18 I think it is. I then went back to get a cavity fixed which went good. It wasn't until the second cavity they worked on that made me decide to find a new dentist. So I had a cavity filled (the top and side of my back molar) and I thought everything was good until the numbing medicine started wearing off and I was sensitive to water touching my tooth. So I looked at it in the mirror and there was a huge hole in the side of my tooth where it wasn't filled! Either the dental assistant forgot to fill it or it fell out. It was great they were able to get me back in within an hour (thank goodness the office was still open). By then I wasn't numb anymore and the assistant put the topical novacaine stuff on it to prepare it for the numbing injections and that was the most dental pain I have ever experienced. Anyways that day I had four numbing injections (two the first and two the second time) and I didn't get to eat at all that day because I couldn't feel the side of my face. Two weeks later I went back because I was still having pain on that tooth from sensitivity to hot and cold, there was an area on the top of my tooth that didn't get filled all the way. The dental assistant tried fixing it but I still have quite a bit of sensitivity there so I just avoid drinking on that side from now on until I can get it looked at by a new dentist.

Absolutely phenomenal. The office staff was very welcoming, the hygienist was beyond thorough and Dr. Crabtree was so knowledgeable. Every single person was beyond kind. Finally found a dentist office that we love.

This office cannot be surpassed, the staff and Dr are top notch. From the moment you walk in until the appointment is finished you are comfortable and in great, knowledgeable, caring hands. If you are not a patient here I highly recommend you become one!

Ive been going here a year and have had two checkups along with one filling. My husband also joined me here and has been very impressed with the dentist. Knowledgeable & gentle, thorough & excellent at explaining options, timelines, pros/cons, etc. I feel like I trust his feedback & that there is an appropriate level of concern, no pushing you into crazy dental work that's not needed. I'm sold on this being my family dentist AND those are huge shoes to fill considering I came from a dentist in VA that I had been seeing since I was about 10....THANKS FOR BEING SO PROFESSIONAL

Opening Hours
Mon

Closed

Tue

5:00 pm - 9:00 pm

Wed

Closed

Thu

5:00 pm - 9:00 pm

Fri

Closed

Sat

Closed

Sun

Closed
Authorize your self with either of these to view contact details, your information will not be shared to any one
Newsletter Subscription for Virtuous Reviews LLP
One more step and you will be subscribed to our newsletters
We have sent you a verification mail on your email id, please verify it.