DanceMakers of Texas
#84 in USA
#9 in Fort Worth
School
6201 Sunset Drive, Suite 630, Fort Worth, TX 76116
Claim Listing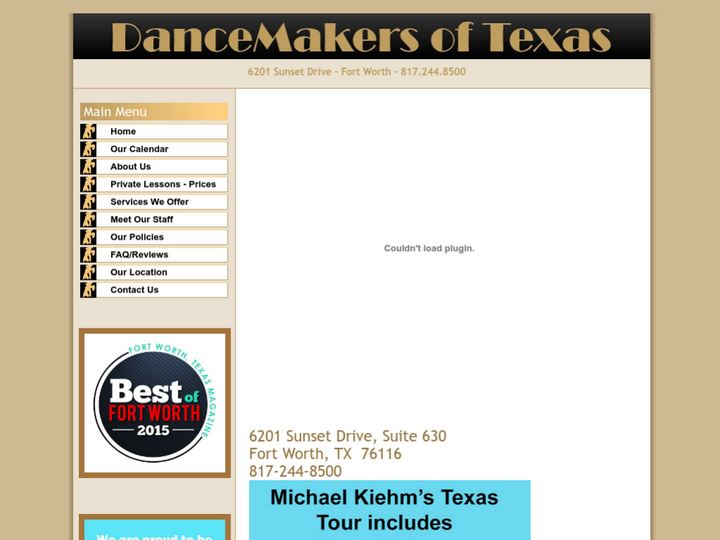 Company Description
Now, DanceMakers is prospering due to the resurgence of ballroom dance and the wonderful word of mouth generated by our many satisfied students. Our relaxed, friendly atmosphere and constant commitment to the students have earned us a reputation as THE place to go for partner dancing in Fort Worth.
Review & Rating

For my birthday this last year, my boyfriend gave me a gift certificate to this dance studio for 2 private dance lessons for he and I. We both have pretty hectic schedules between work and school so we just had our 2 classes this week. We both agree that we LOVED this place! Our instructor's name was James and he was awesome! The classes went by so quickly because we were laughing and having fun the entire time. We liked that our instructor was laid back and he allowed us to be our goofy selves. The dances he taught us were fun and routines we could use for upcoming events. We are not in a place at the moment to take regular lessons, but when we do have the time we will definitely return. Thank you guys so much for the great experience!

Dancemakers is a wonderful and inviting place to learn to dance. My wife and I are recent empty-nesters and were looking for a fun couples activity. We found Dancemakers online and signed up for some classes. Best decision we ever made. The teachers are all very friendly and they can dance anything from Salsa to Swing. We started out with two left feet but thanks to their help we're slowly but surely turning into dancers. Another great thing about Dancemakers is they have dances on Friday & Saturday nights so you can get out and just have fun dancing. I could go on and on, but the bottom line is if you want want to learn to dance, this is the place to be.

My husband and I have really enjoyed our private lessons at Dancemakers with Tony. He is a wonderful teacher and we are having a blast at learning several dances! Thanks for all your help!

Dance Makers is a great place to learn to dance. My husband and I took lessons to prepare for our son's wedding. Everyone at Dance Makers is very encouraging and supportive. Unfortunately, we started a little late, so we decided to start with their introductory package and continue with private lessons. Our instructor, Gabriel, was very patient and helped us to focus on a routine that we could do at the wedding. Originally, we were learning a couple of new dance patterns a week. We talked to Gabriel about focusing on a single song and dance routine, which worked well for us. We had a blast at the reception because for the first time, we were able to dance confidently together. I would recommend that you ask to take a video of a new routine to act as a reminder of the pattern so you can practice at home. If you want to learn how to dance for fun or to prepare for a special occasion, I would recommend that you check out Dance Makers and if you decide to do private lessons, ask for Gabriel because he is a very knowledgeable, experienced and fantastic instructor!

Fun, friendly and welcoming. This studio is a great place to learn how to dance for all styles of dancing.

Shelli Runnels Randall
UK
My husband and I took lessons from Jasmine. You could not ask for a more awesome teacher!! She taught us so much with several different dances. I would highly recommend taking lessons from her.

I like to tell people that I have a new family...a dance family! And thanks to Dancemakers I have been exposed to a whole new world. Cheers to Chad for being so patient with me as I figure out what my body is doing. Cheers to Julie for amassing this amazing group of teachers and for your teaching skills. Cheers to Augie for his endearing smile and West Coast Swing chops. Cheers to Amanda for her beauty and lovely arm styling. Thanks to Gabriel for his smile and for being so positive. Cheers to Marianne for running a well oiled machine and for her wonderful personality. Cheers to Jerry for his master techniques & DJ skills. Cheers to Tony for those fun line dances. Can you tell that this place and these folks mean a lot to me? I appreciate you guys! So glad you are in my life.

We recently started dance lessons. Jasmine is our instructor. From day one she nothing but friendly and professional. She makes dancing not only fun but easy to learn. She is flexible with our work schedule. Jasmine has shown lots of patience being that we are new to dancing.

As a lifelong non-dancer I always watched others dancing with envy. I've recently started lessons at Dance makers and could not be more impressed. Jasmine have put my lack of confidence at rest with her extraordinary friendliness, expertise and teaching skills. I'm looking forward to each class and my dancing future. I can see that the one on one teaching experience allows me to learn not only steps but also the feel of dancing with a partner. Jasmine has always been very in tune on how to adjust her teaching methods to motivate and inspire me to keep improving

We wanted to take some lessons before our wedding but we're very short on time. We had 2 lessons with Jasmine and she made us feel so much more confident for our first dance! We were a little nervous before our first lesson as we've never taken a lesson before, but Jasmine made us feel very comfortable. She worked out a simple but nice dance for us to do. We would definitely recommend Jasmine and are definitely thinking about taking more classes from Dancemakers!

Opening Hours
Mon

Closed

Tue

5:00 pm - 9:00 pm

Wed

Closed

Thu

5:00 pm - 9:00 pm

Fri

Closed

Sat

Closed

Sun

Closed
Authorize your self with either of these to view contact details, your information will not be shared to any one
Newsletter Subscription for Virtuous Reviews LLP
One more step and you will be subscribed to our newsletters
We have sent you a verification mail on your email id, please verify it.