Fresh Bike
#84 in USA
#42 in Atlanta
Sell Bikes
1575 Old Alabama Road, Suite 209, Roswell, GA 30076
Claim Listing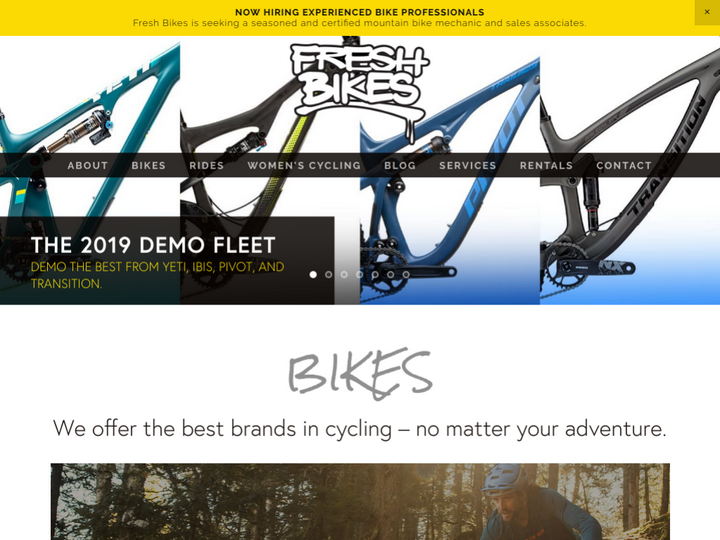 Company Description
Fresh Bike Service, Inc. is working to raise the level of customer service standards and expectations for cyclists in the Atlanta area. We achieve this through the wide variety of services that we have to offer. While our main focus is Top of the Line Customer Service — we are Atlanta's Premiere Bike Shop — offering entry-level to high-end boutique bikes sales, demo bikes, and rental bikes.
Review & Rating

Great advice and knowledgeable folks. Unbelievable rental/demo bike selection

Great bike shop! I was looking at a SB4.5 or SB5.5 Yeti for a possible next bike. I live in Memphis and the closest demo I could find was Fresh Bikes. I contacted Shawn and we discussed riding conditions and benefits of both. I decided the SB4.5 would probably fit my trail conditions better. Shawn used to work at Yeti and is an expert on the capabilities of the Yeti, having ridden the "lunch ride" in Golden, CO. I set up a trip to Atlanta to demo the SB4.5 and the IBIS Ripley LS. The shop is located close (less than 1/4 mile) to the Big Creek Park trail head. This was a great placed to demo the 2 bikes with a wide range of trail difficulty. I fell in love with the SB4.5. The shop has a great inventory of Yeti, but I special ordered the one I preferred. He was able to tell me the delivery time immediately (3-4 days). I came back 2 weeks later, picked up the bike, and took it for a ride at Big Creek to ensure it was dialed in. I can't say enough about the personal service provided by Fresh Bikes. My only regret is that I don't live close enough to make it my "local bike shop".

Over the years I've purchased two bikes from the crew at Fresh Bikes. Also, I get them to perform my yearly tune ups. The team is always welcoming and willing to answer questions. When you get your bike after a new purchase or maintenance visit, you will be ready to roll. Attention to detail is what you can expect. If you are looking for a place to have as your local bike shop, give them a try.

The best place in Atlanta to get your mountain bike fixed.

Real good people here. I've had a few questions about my bikes that I've gone into ask advice on. The mechanics happily took the time to listen to my question and help me troubleshoot solutions. Never got the vibe that they're trying to milk me for money or didn't want to be bothered but are more interested in helping out the cycling community.

Awesome experience x2. They have made us customers for life. Go see Shawn. You will be glad you did.

Last fall I narrowed my new bike search down to 5, three of which Fresh bikes had for rent. To make a long story short It took a few days and I test rode all the bikes I wanted with Fresh. When I finally made up my mind which bike, wheel size, upgrades etc I still had not made up my mind about tires. Shawn took a set of wheels off of another bike to put on the bike I wanted for one more test ride. He really helped me confirm what I wanted in a bike. I appreciate the knowledge Shawn, Bill and the team at Fresh bring to the table to educate the consumer. I've been riding for a long time but am not necessarily up on the latest developments whereas they are. As for service after the sale, it's great. I was riding in N. GA and smashed the derailleur pretty good and shifting went bad. I limped back to the car and gave Shawn a call from the trail head. I got to the shop just before closing and dropped it off and they had it back up and running before the next weekend. Every time I call I get a concise expert answer. If Fresh has what you're looking for in a bike, look no further, they will take care of you. If you're not sure what you want, they can save you a lot of time by pointing you in the right direction. If you're going to spend what it takes to get a great bike, ride it before you buy it. Fresh is the place to get it done.

I'd been researching and shopping for my dream mountain bike for a long time. This research brought me to Fresh Bikes, where I found exactly what I wanted. Mike did a great job of helping me with the bike, set-up and just took great care of me – answered my questions, no pressure and just really helpful. There was a misunderstanding, however, during my purchase. Shawn's approach, fairness and attitude in taking care of me was impressive. He cares about his customers, does right by them and is more than fair – and that's at least as important as the product they carry. Oftentimes, it's how a team handles a challenge that is telling – and Shawn and the team demonstrated they're good, honest people that care. So, I actually found more than I was searching for at Fresh Bikes – not only my dream bike, but a great local bike store, terrific customer service and a shop with folks that I trust and give good advice. I'll be coming back to Fresh Bikes for my kids' bikes (and my next dream bike!).

I moved down to Georgia from the Northeast and I was worried about finding a good bike shop. Many riders I met on the trail pointed me in the direction of Fresh Bikes. Although I ride a Santa Cruz, a brand that Fresh Bikes does not carry, that didn't stop Fresh Bikes from providing me with excellent service and working with their SC rep to replace my frame under warranty. Thank you Fresh Bikes!

Fresh Bikes is just a great bike shop. Shawn treats his customers well. They sell some of the best bike brands like Yeti, Ibis, and Pivot. My wife and I got our Yeti SB5s from Fresh Bikes over two years ago. First off Yeti makes awesome bikes. But any bike needs regular maintenance. We just had our bikes in for full maintenance including pivots, fork and shock. My bike needed to have my rear shock sent to Fox to have a part replaced. Fresh Bikes handled everything well. And as a courtesy Shawn eliminated the estimated labor charge for the rear shock because I had to spend more for the extra parts and fees from Fox. Those actions are noticed by the customer. Last year during service they noticed a cracked bushing that they replaced as a courtesy. Bottom line mountain biking is an expensive sport and it is important to work with a good shop that has skilled mechanics and treats their customers well. You will find that at Fresh Bikes.

Opening Hours
Mon

Closed

Tue

5:00 pm - 9:00 pm

Wed

Closed

Thu

5:00 pm - 9:00 pm

Fri

Closed

Sat

Closed

Sun

Closed
Authorize your self with either of these to view contact details, your information will not be shared to any one
Newsletter Subscription for Virtuous Reviews LLP
One more step and you will be subscribed to our newsletters
We have sent you a verification mail on your email id, please verify it.