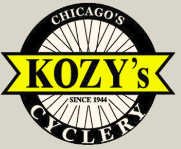 Kozy s Cyclery
Sell Bikes
2540 S. Wabash, Chicago, IL 60616
Claim Listing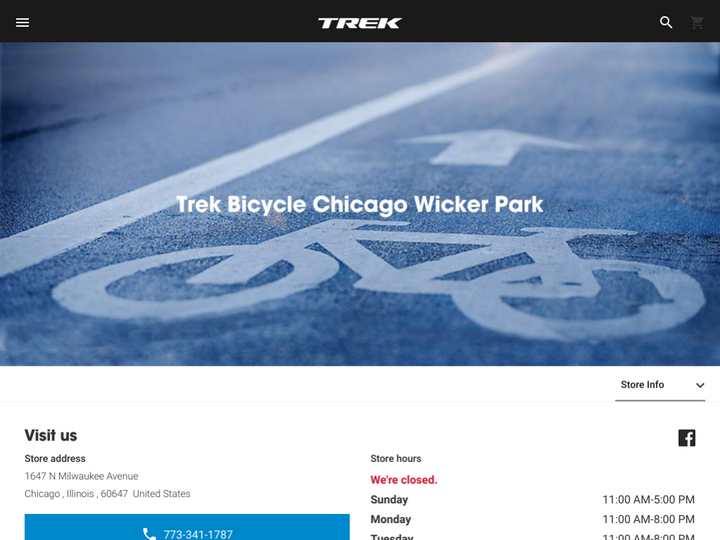 Company Description
Chicago's largest bike shop featuring road, hybrid, comfort, mountain, triathlon, electric bikes, folding, commuter, cruisers, women, BMX & kids bikes. At Kozys, we can help with all your cycling needs and bike repair!
Review & Rating

Meant to write this a month ago. These guys went above and beyond to help me. They were about to close but not one of them tried to hurry me out. They proceeded to adjust my seat, handlebars (which were stuck) and change my pedals, and a new tire. Plus I was telling them I couldn't afford the tire but bc they knew it was a safety issue they asked me what i could afford and I said 5$ thinking there was no way, but they found me a nice used tire and put it on for 5$.Having had a bad experience at Boulevard bikes (i will never go in again) its nice to have a shop i can feel comfortable going back to every time I need something. For me thats Kozys from now on.

Great selection. The store is huge. Staff is knowledgeable and friendly

Dropped my bike off for a tune up and came back the next day to pick it up, all tuned up!. Wonderful👌.

Friendly staff that were really informative and knowledgeable. Easy to test ride, ask questions, and determine the best bike for my preferences. There were some small hiccups at checkout but were resolved fairly quickly. I really like the bike and it rides great. The only issue is the brakes are continually very squeaky. It's nice to be able to bring it back in and have it serviced for free the first year after purchase but a slight pain as I will be bringing it back in for the 2nd time in only a few months.

They did not have exactly what I was looking for, but Vincent sent us to a different shop, and because he was not sure if they would have what we need, also gave us the name of another business. To be clear, they have a high selection and a variety of brands, and you can order if they don't have it in stock. My husband needed to be able to try the actual bike since he'd not physically sat on the one we think we want. I would absolutely go back to this store, as they cared about making sure we got what we needed and not just about making a sale.

Horrible service the last 3 times I stepped foot in here I really wanted to like this place but there service staff can be so rude. Please don't treat me as if I'm bothering you I'm actually there to give you business.

So I'm giving it 3 stars because there are a few very helpful and nice people there but I've gotten enough attitude from the rest of the staff. There's one gentleman who repairs the bikes with a beard that always seems as if I am bothering him when I ask questions about my bike. Now I'm no novice when it comes to bikes but at the same time there's a lot more I can learn and I'm very interested in learning. So I ask a fair amount if questions. I'm very polite when I ask and make sure to ask when it seems as though they have the time and always let them know that if they're busy that I can wait or just ask another time, but this one guy always makes me feel as if I shouldn't be asking questions. So I literally just started going to the Kozy's in river north. Again not everyone there has an attitude and the one's that don't are AWESOME, but I'm not going to go out of my way to go in on days they're there. I still love Kozy's and will always shop there.

Jonathan took excellent care of us helping to select the right sized bikes and adjusting them to our riding styles

My expectations and excitement towards buying my first bike at this store turned out as disappointing, frustrating and experienced unsatisfying customer service. So I saw this bike that I wanted on their website and I called in to put on hold while I pay it off.. I spoke to sales representative at the store I was informed they can only charge $20 pay on phone which is fine. I was walking the sales person on the bike that I specifically wanted gave the exact colors of the bike , the year it was made and exact model posted on their website, he took my phone payment and everything was a breeze. The following week I came back to pay part of my bike and informed them I'll pay it off in a week's time, and I shall pick up my bike I was guaranteed that my bike will be ready by that time. Fast forward yesterday, we went to the store I came paid my bike in full, and was advised to pick it up at service center. To my horror and disappointment they were giving me a WRONG BIKE!!!! An older model and style that I didn't even consider buying, to be honest at this point I was already mad! And staff around didn't seem to care about the total mishap and I felt the situation is already mishandled..no manager and staff just called the guy who took my order and he was making an excuse as miscommunication on the phone! Ok and partly it ended up looking that it was a customer fault for putting order on phone! Like verification is the key to handle orders , not saying it was through phone order! They didn't even apologize for the mistake they did and all they did was oh we're just gonna order the bike you want just wait for like till Thursday should be here oh btw you have to pay for the extra costs since bike you wanted has different price! Look your messed up my order, set a wrong expectation for the price and poor experience with my purchase. The only thing I got compensated was well you can use bike until your bike is shipped and ready for pick but don't scratch and handle this loan bike with care! I should not be dealing with all this at this point I should be enjoying my new ride with the right bike! It has been paid in full and the service provided was just nightmare! Today we went and returned the loan bike after doing test ride bike was good i love the breeze of riding it , but the frustrating experience I have to go through with their mistake and having to deal with it is unacceptable! Oh btw they said bike will be ready Thursday today they said it will be Friday so we shall see how this goes! Also they asked me to pay the difference of the bike the I ordered from the one they got me like seriously after they messed up my order they have the audacity to ask for more money when they quoted the wrong amount which has been paid off!! Very Unhappy with customer service, staff members here doesn't seem to care! After this I'm gonna go find better bike stores who handles their customer with care and value!!!

I brought my bike in here for a tune up. It started out well, someone addressed me politely to see what I needed. He explained a few things and upsold me on a lot of things. I had a question about the bill because it was not clear what I was paying for, so I asked if someone could explain it. It took three people to actually answer my question, which was essentially itemizing the bill so I could know exactly how much I should expect to pay when I pick it up. Finally, I left. When I returned a couple of days later to pick it up, some of the work we discussed had not been completed. I mentioned it, and the technician fixed it right away. However, my brand new fly wheel and chain was not shifting properly, thus, I had to bring it in again. I had to go in a third time to adjust something else and the whole thing was one big hassle. I did not feel like I was treated like a valued customer, especially when I, as a woman, asked the technician a question about where he rides, and he answered only looking at the men standing next to me. Small detail, but did not feel great. The work was decent besides the gear issue, so that's why I gave 3 out of 5. Probably will not be back here again though.

Authorize your self with either of these to view contact details, your information will not be shared to any one
Newsletter Subscription for Virtuous Reviews LLP
One more step and you will be subscribed to our newsletters
We have sent you a verification mail on your email id, please verify it.