Landmark Dodge
New Cars
6850 Mt. Zion Blvd, Morrow, GA 30260
Claim Listing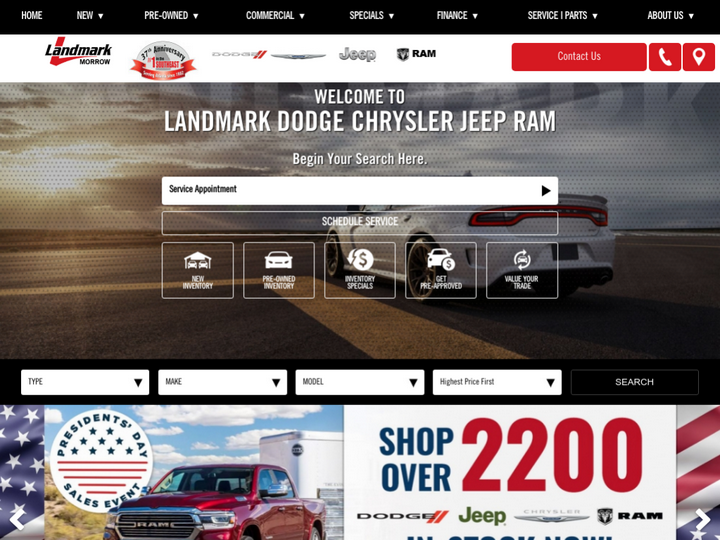 Company Description
Welcome to the Landmark Dodge website, a fast and convenient way to research and find a vehicle that is right for you. Whether you are looking for a new or used Chrysler, Dodge, Jeep or Ram car, truck, or SUV you will find it here. We have helped many customers from Morrow, Atlanta, Marietta, Buford, Lawrenceville, Stockbridge, Union City, Newnan, Duluth, Macon, McDonough, Griffin, Jonesboro, Peachtree City, Forest Park, Riverdale and Roswell find the Chrysler, Dodge, Jeep or Ram of their dreams!
Review & Rating

I have had to drop my vehicle off twice at this location for the same exact reason. The 1st time I dropped it off they told me it was because I needed an oil change. The 2nd time they told me they found the problem and they fixed it. One hour later, after picking up my vehicle, I have the same exact problem. This is very upsetting, I do not like this location nor would I recommend it to anyone. I don't know what they have going on, but someone is not doing their job. I should not have to bring my vehicle to the same location, for the same exact reason three times within 1 month. Just horrible!!

The worst car buying experience in my life! The NEW car I picked out didn't start, the sales team were very unorganized and unprofessional, the finance person screwed up the paperwork twice and had to reprint, it is now 60 days after purchase and I still don't have my tags (they still have not submitted them and I can now not drive as I have no registration). Also, never received the gift card as advertised on their website and reaching a manager is a joke! The reception staff is also rude. Don't buy here!!

Outstanding job form Landmark Dodge of Morrow. There team work makes are Dream work. The entire staff are really True Team Players including the cleaning crew. They are always so polite and eagered to satisfy every customer with what you want and what you can afford. They will make sure your riding today or make sure to give you time to bring in your down payment. Outstanding job to the cleaning crew for never a dirty or dusty day at Landmark Never a smiley restroom, dirty carpets, or smeared windows even when it rains. Thanks a lot Landmark we need you Ladies and Gentlemen in the community.

The only good part you can make appointments online the bad part they don't honor appointments i was there 40 minutes before appointment time before they even opened the doors at 7am they say oil change is first come first serve so all the oil changes go around and get tickets before me they don't come out and ask who has an appointment or not they just let you in the bays like you are lined up outside no matter if you have an appointment I will never go here or purchase a car from here I will take my business to other dealers up north Atlanta like my fiancée does dealers on the south side have no good customer service and I only gave 2 stars because being able to book online appointments if you make an appointment here you better go around everyone in line like I should have done because they will not honor your appointment time

Avoid taking your vehicle to get service. They charge $225.00 an hour for labor ( I just needed my heat door actuator replaced, which I do not think is a laborious task that warrants that $225/hour)!!! And $50.00 for shop supplies (to change our a door heat actuator, I can understand 50 bucks for maybe engine/transmission, brake work, but not for an actuator that the technician just plugs in)???? They charged me $73 for a part that I could have got at AutoZone for about 30 bucks. They even charged me $3.25 for a tire disposal fee and I didn't take my car in to get new tires. The service center here charges customers way way way too much! If I had time and energy to fix this myself I would have and I would have saved myself $500.00! Avoid taking your car here to get service. They will drain your wallet. I even paid with my Dodge drive plus MasterCard and the cashier didn't even let me know about a 6-month promotional interest-free option if I spent over $500.

This morning I was 3rd in line for just an oil change. Over TWO hours later, it was finally completed. I'm not sure who is running this place, or what inefficient people are actually working here, but the wait is not worth it. Maybe they could spend time fixing their service department rather than replying to all of the comments similar to mine... Skip this place and go to a quick lube that's actually quick! I won't be back.

Not the worst dealership experience I have had, but they had agreed to include the all weather mats to my wife for no more than 100$, then when she went to get them they wanted 280$ for them. Cannot get anybody to call me back, and the manager who made the deal keeps telling her will take care of it, but nothing happens. Additionally, missing two of the three keys, they replaced one, but with the wrong key, so we are stuck with one key. They were fine day of, but the follow up assistance has been horrible. The only reason they are not a 1 star is because they were good the day of, but since then they have become the typical car dealership.

Horrible experience! I do not recommend going to get your vehicle serviced there period. Every time I go to get a oil change it'll take 2 to 3 hours and that's including no vehicles in the bay area! Today I was there from 10am to 6pm just for a oil change and tire rotation. They never notified my that my 2016 Dodge ram had 3 factory recalls. After my truck was fixed, it sat on the lot for 3 hours! I kept asking them about it and they said they were waiting on the warranty department. Today was my last time going to get any service from this place. Customer service is absolutely deplorable!!!

This was the absolute worst experience imaginable. For starters, this place does not offer courtesy vehicles as they use a horrible in house car rental service. After setting up my repair job, I was told by Steve, my service tech, that the job would only take a day or two. I rented a small car from Hertz , the in house rental service. I assume no one inspected the car as it smelled horribly and had a maintenance light flashing on the dash. I brought this to the attention of the attendant who assured me the vehicle was fine. The next day, I was contacted by Landmark about other possible services, however I was unavailable and Steve left a very detailed message. I called back, not even 5 minutes later and could not reach him. I left a message and attempted to reach him 3 more times that day, to no avail. The service tech Steve did not return my phone call even after multiple attempts. I called the following day to insure my car would be ready for pick up. I was able to speak with Steve and he quoted me a price that was higher than the scope of work agreed upon but assured me my car would be ready between 3 and 3:30pm. I brought back the stinky rental at 3:30 and headed to the service department. There were NO service techs on the floor! I was ushered into the cashier's building where, to my dismay, my paperwork was not in the system. I anxiously waited for several people to attempt to contact Steve and sort through this blatant unprofessionalism. After 30 minutes, a different technician agreed to service my job... a job that had not been started or filed in the system. I was told it would be an hour before I could get my car. Please take my advice; run, do not walk away from this place. I will never do business with them again and I urge you to think three times before you consider them as well!

This rating is placed directly at their service department. The worst service you could ever experience. Every time and I mean every time I go there it's some kind of issue. They will have you to schedule service and then when you get there, they will either not have the part or try to make some excuse not to service your vehicle. So we made another appointment and guess what, the same thing again. Keep the car for three hours then called and said they don't have the part again, even though they knew what part was. There is zero communication with the service managers, the people who make the appointments and the service staff. It's a helpless feeling when you go there, because they always try to do as little as possible. You bring your car in and say you need an oil change and tire rotation. They change the oil and don't rotate your tires and then tell you, you didn't need it. So they won't even do service you ask for. You don't to wait until your tires start to show wear before you rotate them, even tells you that in the manual. But these idiots will try to tell you anything not to do their jobs. The dealership is great but, just be ready to take your car somewhere else for service or prepare to be frustrated almost every time you go there. You can also expect your car not to last as long because of the sorry service you get from them. If there were a lower rating, I would give it to them. It's a sad combination, you get a great deal when buying a car and then you have to experience their service department. The biggest issue they have, is they have no respect for your time. You make an appointment and they turn you away with some BS story, not even thinking about the fact, you took off to get this done. I want to update this review and say that the quality of service has improved tremendously. The last three times I visited, I was greeted with greatly improved service. It has definitely, changed my viewpoint. I would recommend.

Authorize your self with either of these to view contact details, your information will not be shared to any one
Newsletter Subscription for Virtuous Reviews LLP
One more step and you will be subscribed to our newsletters
We have sent you a verification mail on your email id, please verify it.