Main Course Cooking School
School
18750 Interstate 45 N. Spring, TX 77373 USA
Claim Listing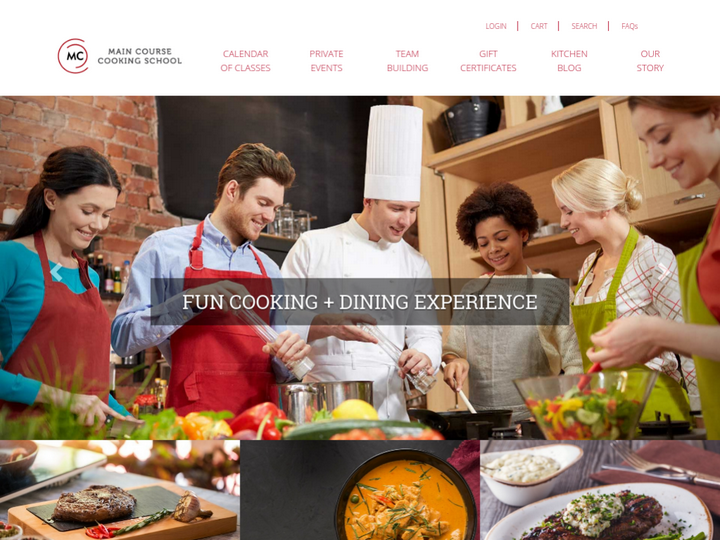 Company Description
Life's lessons are typically passed along through time spent with family and friends. Chef Lawrence Fogarty fondly remembers the time he spent with his grandfather at his family farm in Bellville, TX. While farm life usually meant helping his grandfather care for his livestock and poultry, it also provided additional benefits. It was during this time at the family farm that he learned how to select the very best cuts of meat and produce for family gatherings. In fact, these early experiences where actually what inspired him to become a chef.
Review & Rating

My parents and I had so much fun!!! The instructor was great and gave us step by step instructions that were easy to follow. Our instructor, Marie Christine, was fun and encouraging. Our food turned out delicious l. Highly recommend this for some quality family time or a date night. We will be coming back for sure!

HIGHLY RECOMMENDED!!!! My husband and I recently went to a date night cooking class and absolutely LOVED everything about it. The food was phenomenal, so so good. It's a very nice, professional setting and just overall a fantastic experience. We will definitely be doing this again - favorite date night we have had in a long time!! BOOK IT!

This was a wonderful evening. We did a group cooking class called "Let the good times roll". Lawrence and his team were so interesting and thoughtful in working with our varied age and cooking experience group. Highly Recommend this cooking experience for everyone.

One of the best cooking classes I have taken here in the Houston Area! Lots of room to move around great atmosphere and wonderful food to cook and eat! Will definitely be back for more classes!

What an amazing place! The hands-on atmosphere was exactly what I was looking for. We cooked cornish game hens and had so much fun. The instruction was clear, clever and very supportive. The facility is very professional and the staff very expert. I cannot wait to come back for another evening. This excites me to want to learn more.

First 'cooking class' I had ever attended. Not what I expected. If you are there to learn how to cook, you will be disappointed, which I was. What you will have is a good time, especially if you are lucky enough to get paired with fun station mates like we were. Facility is well designed and stocked and the chefs are personable and knowledgeable, if largely inaccessible due to the number of attendees. I felt neglected largely but perhaps other stations needed more immediate attention than we. The fact that there is a lot of talk amongst the students makes it very difficult to follow along with the flow of verbal instructions given by the chefs. This led to confusion and frustration for me personally. That's a lot of negative feedback for a 4 star review I know. The reason for the high rating was that it really was a good time and I would recommend it to anyone looking for something fun to do with a friend or loved one that is a little out of the ordinary. I picked up a couple of tips and had some decent food so all in all it was a very positive experience.

My wife and I had a blast. The food was fabulous and it was totally hands on so that the two of us cooked our own food at our own counter and range. Our chef was great, very engaged, coming around to our counter frequently to make sure that we were doing okay. We finished the evening eating the meal with cooked around a table with the other couples in the class. Wonderful experience and we will do it again!

Love!!! The place is very clean and professional. The instructors are very friendly, not intimidating at all. Who doesn't love to drink wine, cook and socialize? We will definitely do this again. Thanks for nice evening.

Really enjoyed the instruction and the cooking space. Just wish it was 2 per cooking zone vs 4.

Best corporate team event I have ever been to. Chef Lawrence and Thomas were great and the food was amazing

Was greatly disappointed with my experience here. I was visiting the area for a few days and had planned on taking a cooking class with my boyfriend for a fun activity while in the area. I was under the impression that I would get to cook with the person I signed up for the class with but apparently you are paired up with another group (which I must have looked over on their website). Immediately the entire process was taken over by the other couple. I did not pay $140 to take a cooking class where I was going to watch another couple prepare a meal for me. (And apparently this other couple had been here multiple times.) When I pulled the chef aside to talk about my concerns I was basically told that he was sorry I felt that way and there was nothing he could do. It's unfortunate that with 4 other available cooking stations he couldn't move us to another table. I'm upset about how much I spent for an experience that I didn't get to experience. Huge disappointment.

Opening Hours
Mon

Closed

Tue

5:00 pm - 9:00 pm

Wed

Closed

Thu

5:00 pm - 9:00 pm

Fri

Closed

Sat

Closed

Sun

Closed
Authorize your self with either of these to view contact details, your information will not be shared to any one
Newsletter Subscription for Virtuous Reviews LLP
One more step and you will be subscribed to our newsletters
We have sent you a verification mail on your email id, please verify it.