San Francisco Cooking School
#90 in USA
#34 in San Francisco
School
690 Van Ness Avenue, San Francisco, CA 94102 USA
Claim Listing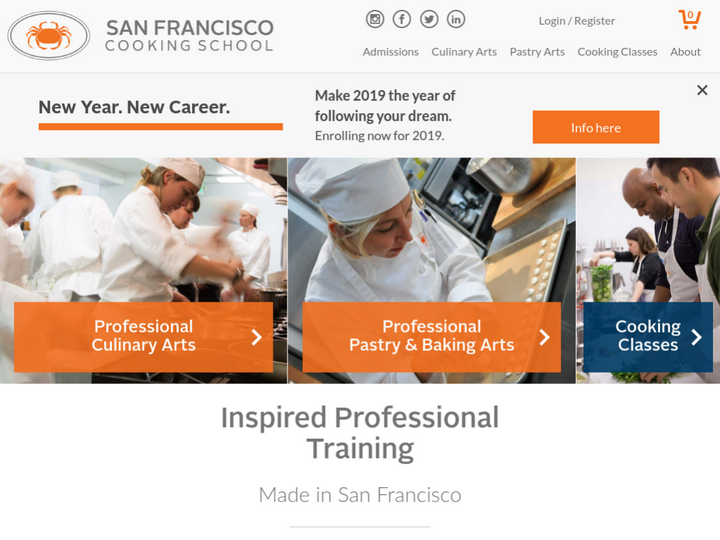 Company Description
At the core, SFCS offers career-training Certificate Programs, in Culinary or Pastry & Baking Arts, designed to prepare aspiring food professionals to jump-start their new careers after six intense months (or twelve if enrolled part-time).
Review & Rating

Excellent cooking class. Friendly instructors, large clean kitchens, and plenty of kitchen supplies/utensils.

All the classes I have taken so far have been nothing but awesome! Most classes are around 4 hrs. Not only do they have a great facilities to learn from, they always get instructors that are definitely the experts in the realm of what they are teaching. All their classes are hands on. You will never walk away with a feeling you didn't learn much, but rather trying to walk away remembering all the tricks and tips on top of your class instruction notes.

Hands down, best cooking classes in town. All the instructors either run their own restaurants or have food-related businesses. Give it a try, you won't regret it. They are a bit more expensive, but you get a longer class, fantastic instructors, and a meal at the end (that you cooked).

The SF Cooking School offers a wide range of classes, targeting mostly the beginner/hobby cook enthusiast. You can start off with a knife lesson - they'll teach you everything about knives, how to cut, and how to be fast without cutting your hand off. Or, try the Paella class - 4 hours after work (start at 6pm sharp) full of prepping, cooking, drinking self-made Sangria, and, finally, EATING. There's more... Ramen class, sushi courses, Chinese cooking... plenty of choices. Great for singles, couples, friends, or team building events. Our instructor Jessica was amazing and very knowledgeable - not sure if I can make Paella now on my own but I'm certainly willing to try.

I took the macaron class. This class was very disappointing. Although the lady teaching the class was nice and "formally trained", it certainly was not in making macarons. The egg whites were not "aged" nor room temperature. The thermometers they passed out were not working correctly. When asked a macaron question, her answer was, "I don't know." Most people in the class macarons looked more like macaroons. When asked by the student about them, she said they looked "great". There was no, "hey, you may want to mix them some more so they don't look like a blob of almond flour." I will say, the lunch was good. However, not worth the $165 or the $400 hotel stay. Better luck (and less expensive) at Sur la Table or one of those places.

I took David Groff's 3-night class in "Fish and Shellfish Fundamentals". I thought I would come out of it with several great seafood recipes that I could feed my family. How wrong I was! This class teaches you all of the TECHNIQUES and manner of cooking fish and shellfish- poaching, smoking, frying, etc. I thought I'd be able to go to a fish counter and always find a fish I could cook. Instead I now look at the fish counter and know a couple of different ways I could cook EVERY fish and shellfish. I feel like an entire section of the grocery store has now opened up to me to create restaurant-quality meals. David is a knowledgeable, humorous, skillful teacher, and the classes are 80% hands-on. The fish we worked with were of the highest quality. A bit of wine at the end lubricates the group and everyone sits down for a seafood feast each night. I highly recommend this class.

Meredith Barrett-Jones
UK
My boyfriend and I took Matthew Dolan's "Simply Fish" class last week. From the description, it seems the class will teach one how to cook the fish based on several flavour profiles and what's in season. This ended up being more of a "really fun activity class". Chef Dolan definitely told us where to buy good fish in SF, and taught us what to ask for from Whole Foods in terms of preparation, but it was almost a bit too casual. I would have preferred taking away a few fundamental skills. Great overall activity to do with a friend or significant other, and food was very fresh and contained clean ingredients!

Always an enjoyable afternoon or evening here, learning new dishes, meeting new people, and eating good food.

Great facility. Great instructors. Great ingredients.

I've been too cooking classes here many times and I always learn something new. Great chefs leading the class and great friendships made along the way with the other class participants. If you are in town for a few days, or a local this is the perfect place to go to learn how to cook a particular dish, or learn an overview of a regional style. You get to eat the food you cook after the lessons are all over and great wine is provided Highly recommended if you can fit it into your schedule. Classes, date, and, and times are posted on their website!

Opening Hours
Mon

Closed

Tue

5:00 pm - 9:00 pm

Wed

Closed

Thu

5:00 pm - 9:00 pm

Fri

Closed

Sat

Closed

Sun

Closed
Authorize your self with either of these to view contact details, your information will not be shared to any one
Newsletter Subscription for Virtuous Reviews LLP
One more step and you will be subscribed to our newsletters
We have sent you a verification mail on your email id, please verify it.