Precision Camera & Video
Hire
2438 W Anderson Ln B-4, Austin, TX 78757
Claim Listing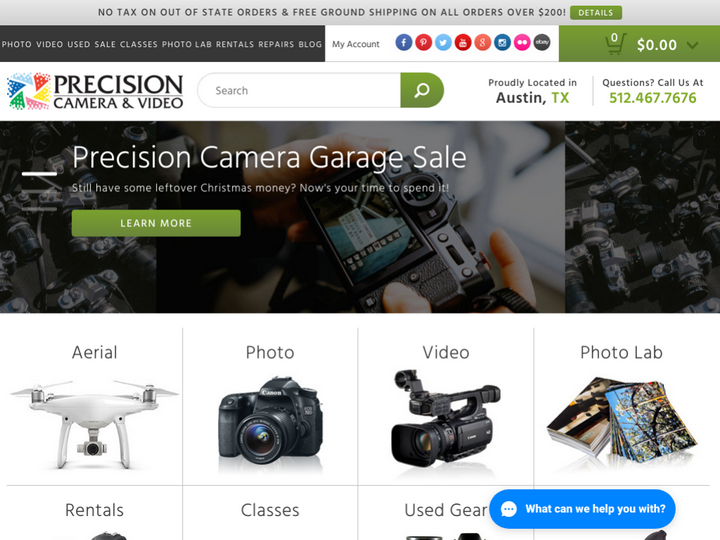 Company Description
Precision Camera was founded in 1976 to serve the photographic community of Austin Texas. To this day, it is still owned and operated by it's founders, Jerry and Rosemary Sullivan. Precision Camera is committed to education and delivering the finest customer experience.
Review & Rating

Always a good experience at Precision. Great place. Many thanks to Ian and Noel today. Great customer service. It's definitely worth the drive from San Marcos.

Very informative. Better than the big box stores by a mile. These guys know the products and features that they do.

I have rented many times here mostly lenses and flashes. Recently purchased a flash. The staff is knowledgeable and helps you make an informed decision. If you are going for rentals make sure the equipment you are looking for is available. Sometimes the lenses are not available so make sure beforehand. Overall buying and renting has been a very good experience for me here.

It's actually hard to believe a camera store like this still exists! I can get 120 film, studio lighting, lenses, old-school gear, proper tripod legs and heads, film developing stuff, video gear, digital gear - EVERYTHING! It's enormous and the staff are not only helpful, but are extremely well qualified to offer advice. Some are pro photographers, all are excellent photographers or videographers. Please go here, buy your kit here and help to keep this amazing resource here.

We had a Great experience at Precision. Ron Jewell listened and helped us make the best decision for our needs. He was patient and thoughtful. Thank you Ron. Nicki was also very helpful. The store was busy and we had not planned on purchasing today. The experience was excellent .

I had the best experience with Maggie, she's simply awesome! I went into the store with the intention of getting several prints framed from my wedding to give as gifts to my loved ones. Maggie spent a lot of time with me and was able to use her extensive knowledge to execute what I wanted. She gave me an estimate and I was to pop in the following week where we would put the finishing touches on my order. We finalized everything and she offered for me to put down a deposit, I told her I would prefer to pay in full, which I did and I would stop by again when everything was ready. I came in today with the expectation that everything would be perfect and it was anything but that. The young lady at the counter told me had a cold and rude attitude and told me I had an outstanding balance of over $200, I told her that there must be a misunderstanding because I paid for everything beforehand, close to $1800. She then stated that I was unable to see my pictures until I paid the $200. I then asked to see a manager and explained the situation to him. After looking at the invoices, he couldn't understand why I was being charged $200 and he couldn't waive the fee because he'd get in trouble. As a customer, I'm not asking for a discount or for anything to be given to me. I understand the hard work that goes into making these pieces. But if you're going to have these charges, there should've been a courtesy call letting me know the situation and a detailed account of what I'm being charged for. Then to top it off the largest photo was put in the wrong frame, a completely different one from the one that was originally selected and two of my prints were not framed that were supposed to. It's frustrating because I spent a lot of time with Maggie putting descriptions on each order and yet it was overlooked. While I was talking to the manager a young lady behind the counter (I believe her name is Mia) took over and assured me she'd take care of it. Although it's unlikely I'm to get my frames in time for Christmas, I'm thankful she stepped in to help. The frames that were right, were done beautifully, but the customer service for this store needs improvement.

I'm becoming a regular at Precision Camera and my last experience was particularly great!! Several months back I had bought a camera bag from them. Nothing wrong with the bag, but it just didn't suit my needs. So when buying a new bag I asked if there was anyway I could trade in my previous bag even though I knew I was most likely way passed a return deadline. They took it back for a reasonable price and I was able to walk out with my new bag happy. Thanks for having my back on this one Precision Camera!!

Update: I originally gave a 3/5 rating based on some wait times and lens availability, but I had to change it to 5/5 after some exceptional service from the rental staff. I made a big mistake and made reservations on the wrong dates, but Precision worked with me. They let me rent a demo lens and a used lens that was for sale. They went above and beyond to take care of me, and it reminded me that they could have easily chosen not to. That's above and beyond service, and why I'll always keep coming back to Precision. Original Review: This is a great local store and I've been renting from them consistently for a couple of years now. They have a knowledgeable staff and great facilities. I wish they had an online reservation tool for rental equipment, though, as a trip to their store or a call-in usually takes a lot more time than you budgeted. There have also been several times where the equipment I had rented was unavailable when I went to pick up the order due to others not returning it on time. This isn't Precision's fault, of course, but it's worth keeping in mind if you have an event where the rental equipment will make or break your success.

I had a great experience with Precision Camera. Sarah Hoffman who is in online sales worked tirelessly, quickly, and efficiently in helping me receive my order. The order was shipped same day even though I had some atypical shipping circumstances. They're a very responsive and resourceful company and will likely purchase from them again.

One of the last of the full-service photography stores, Precision Camera & Video should really add the word "Emporium" to the title to reflect the breadth and depth of its offerings. It's rare in this day of online shopping to find a store as comprehensive as Precision, with knowledgeable staff, a huge selection of everything, classrooms, even photo lab and restoration services all under one roof. I've bought two cameras there, and will continue to do my small part to keep an Austin institution going strong. There are photo stores as big and comprehensive in major cities (including a three-letter camera store in a three-letter city with a huge web presence to match its physical size) but a mid-size city like Austin generally doesn't get a photo store as good as Precision. Here's to many more years!

Opening Hours
Mon

Closed

Tue

5:00 pm - 9:00 pm

Wed

Closed

Thu

5:00 pm - 9:00 pm

Fri

Closed

Sat

Closed

Sun

Closed
Authorize your self with either of these to view contact details, your information will not be shared to any one
Newsletter Subscription for Virtuous Reviews LLP
One more step and you will be subscribed to our newsletters
We have sent you a verification mail on your email id, please verify it.