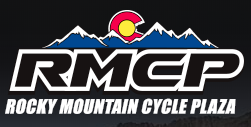 Rocky Mountain Cycle Plaza
#90 in USA
#15 in Colorado Springs
Used Bikes
412 N. CHELTON ROAD, COLORADO SPRINGS, CO 80909
Claim Listing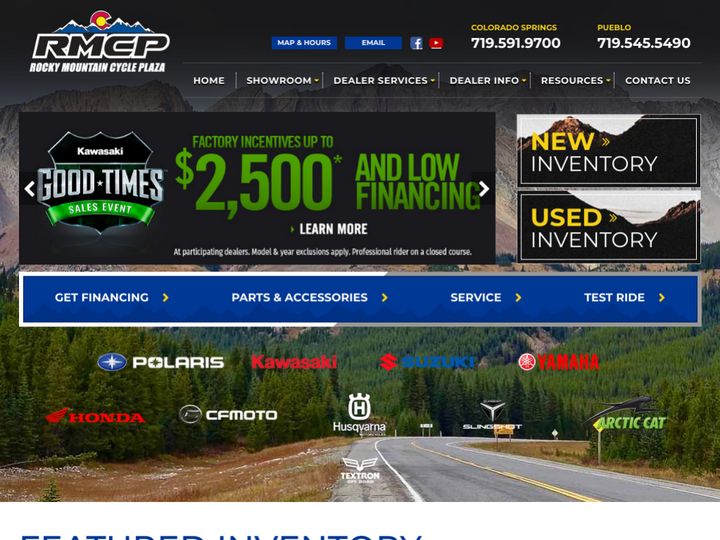 Company Description
Rocky Mountain Cycle Plaza is the largest family-owned motorcycle dealership in Colorado Springs offering CFMoto, Honda, Husqvarna®, Kawasaki, Polaris®, Polaris® Slingshot®, Suzuki, Victory Motorcycles® and Yamaha.
Review & Rating

I bought my first bike here! Anthony helped me find the bike that I wanted, and even took the time to walk me through it and give me tips on riding. He was very helpful considering I'm not the most experienced rider. The finance department made it very simple setting up payments with little interest. This bike is 🔥, thanks RMCP! #CBR650f

Took longer than I was told and was quoted a price for a certain part and then was given a different one. Overall pleased but communication is cheap and it's easy. Why not have communicated about the differing part?

Great product provided although the product can be found anywhere we keep coming back because of the service. Couple of years ago my husband and I bought a bike and Jesse helped us. For the last two years we would come in and window shop and Jesse always remembered who we are. Amazing how two years down the line he still recognizes us and welcomes us with open arms even if we walk out of the store empty handed. Couple of weeks ago we purchased another bike from Rocky Mountain Cycle Plaza and guess who was there helping us every step of the way.. Jesse and the rest of the team. They are all so amazing and helpful. Amazing customer service from the whole team. Will be back again for our 3rd bike.

Went to go purchase 2 dirt bikes. Parked in a simple spot for some guy to walk up and tell me I needed to move cause that's where the owners park! There were no signs or anything. Like wow we are that one petty. Hope it was worth the loss of business!

Cool cycle shop! Usually go here to get my ATV tags renewed. Take a look around! Awesome staff!

Found a bike that I had been looking for in an online ad. Jesse called me in response to my inquiry and was very pleasant to work with. They made the deal I wanted, so I drove over 300 miles to get it. Everything was just as he described, and all of the staff was very friendly and helpful. Once there, I was surprised to find their accessory prices as good as my favorite on-line store, and even better with the discount - so Larry was extremely helpful in filling two boxes with stuff I originally planned to buy on-line! To top it all off, Jesse made arrangements to keep my bike so it wasn't in my pickup bed at the hotel - so I actually slept! Great group of guys and good prices. I recommend them without reservation!

So I brought in a bike a couple months ago to get some services done. I just took the bike to get traded in and some of the things that was said to be done hadn't been. I purchased new tires, a new battery, a chain service and an oil change. When I inspected the bike myself the oil had been overfilled, the chain had just been greased but not serviced or anything. I took the battery back to get exchanged under warranty and they gave me an attitude about it then sold me a supposed better battery. Said battery had a dead cell in it and died quickly after. I know this because the rectifier and stator had been replaced before the battery was installed. The tires were supposedly new but when inspected were old and almost out of tread. Just saying pretty horrible experience and I won't be bringing my business back again. My name in the system is John Jones and the bike was a 2001 Suzuki GSX-R 600. Update: Sorry I haven't answered, I have been at work all day and not able to talk. If you can call me tomorrow after 0830 it would be easier to communicate. Update#2: Spoke to Steve today about what had happened. Went over everything and talked everything over. I am definitely glad we came to a resolution.

Mike helped my wife and I when we arrived to look at a new bike. I had contacted him the day before about coming in for a test ride and he immediately remembered us when another sales rep mentioned the bike we were looking at which I was surprised to hear. He was very accommodating and made the experience very easy for us. There were some minor things with the bike that I asked if they could take care of before we bought it and Mike worked with us to make sure we were getting what we wanted at the price we were comfortable with. Additionally, he brought Nathan, with their finance department, into the mix who helped us secure a loan with almost half the interest rate of what we were pre-approved for. Lastly, Mike let me temporarily borrow on of their helmets to use until mine arrived since it was delayed in the mail. Overall I haven't ever felt more confident buying a new vehicle and it was the easiest and most stress free experience I've had so far. Thanks Mike and Nathan.

Recently purchased. Mike was great, not your typical pushy salesman. Answered any questions and worked with me to get the bike I wanted. 100% recommended

The team at RMCP was truly exceptional. They were extremely efficient and really did great work. Randy was very kind, helpful, effective and polite. Everyone went out of their way to help provide exactly the service we needed. Thank you so much!

Opening Hours
Mon

Closed

Tue

5:00 pm - 9:00 pm

Wed

Closed

Thu

5:00 pm - 9:00 pm

Fri

Closed

Sat

Closed

Sun

Closed
Authorize your self with either of these to view contact details, your information will not be shared to any one
Newsletter Subscription for Virtuous Reviews LLP
One more step and you will be subscribed to our newsletters
We have sent you a verification mail on your email id, please verify it.