Roswell Bicycles, Inc
Sell Bikes
670 Houze Way, Roswell GA 30076
Claim Listing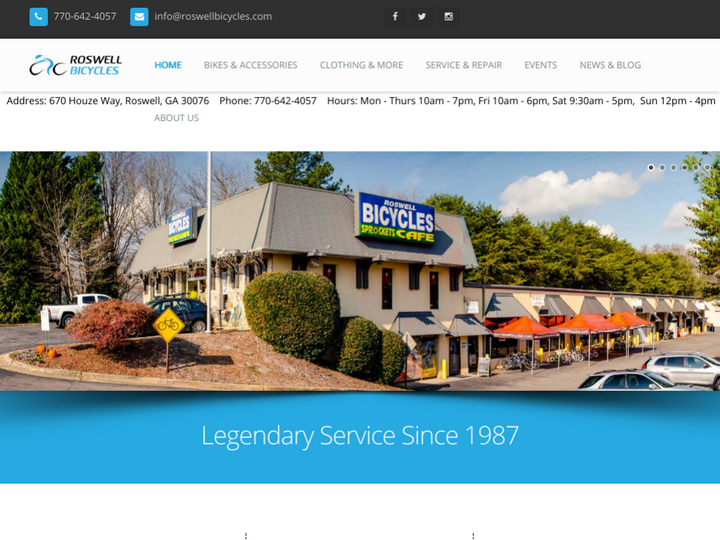 Company Description
We are a short drive from downtown Atlanta and carry the largest selection of bikes around. On any given day we have over 800 pre-built bicycles in stock and ready to roll out the door. Come visit us and see why we are known for our price, selection, and legendary service.
Review & Rating

Visited with my two children to buy bikes for all of us. Was in the store for 20 minutes and no salesperson acknowledged us, not even to let us know they were helping another customer and would be right with us. I even stood at the counter facing a salesperson while he looked at items on the computer with a customer. He had numerous opportunities to slightly turn his head toward me, facing him just a few feet away, yet he never lifted his eyes from the screen. It was awkward. On the floor, my kids asked within earshot of three salespeople why no one was helping us, and no one responded. I examined a few bikes of interest and two salespeople walked right by. It was as though the three of us were invisible, and that has never been said about my kids in a store. There were other customers in the store but it was not crowded. No other customers were waiting for help. I appreciate that the salespeople were so focused on helping the customers they were with, but some one should have at the very least acknowledged us. I carved out time to visit Roswell Bicycles because they have a good reputation and support the local cycling community. They might offer good technical advice, but their customer service was nonexistent. They lost the opportunity to sell numerous bikes to our family as the kids grow.

Outstanding bike shop- the finest I have had the pleasure of visiting. Staff are knowledgeable, friendly and patient, even staying with me after closing time to answer questions and show me a few bikes (I came in just 30 min before closing). I was helped by Parker and TAYLOR; both were friendly, welcoming and made sure I was taken care of. Selection is excellent- fantastic brands and so much inventory! Atlanta is lucky to have this bike shop....

Some of the best service I have ever received. Not only a bike shop but any shop. Very nice staff. Unbeatable service. Love their selection and willingness to help. I've been to bike shops where they talk down at people. Super nice and courteous

Calling around trying to find someone to box up a small road bike for shipping. I've done this many times myself--and paid many different shops all over the country to do it as well over the years. In the past year I've paid $20, $30, $40... sometimes as much as $50 or $60 when there's little to no competition around. These guys quoted me $100--the highest of anyone I called in the area (at least 5 shops). Of course, they have the right to charge whatever crazy prices they want... but if their prices is that high for doing something as simple and easy as putting a bike in a box--which they get for free (incoming bikes shipped to them daily by their vendors)--I can only imagine how expensive their other shop work is. It takes 1/2 hr at most. But, hey, maybe their doing so well--making so much money--in February--that the don't need the work.

My 3 year old daughter got her first bicycle last Christmas, and I was looking for a way to introduce some more fitness into my life, so I thought it was time I got a bike for myself. After a few weeks of research online, I was thoroughly overwhelmed with the breadth of options, so when I discovered Roswell Bicycles right around the corner from my house I thought I would swing in and check some out in person. Parker greeted me when I came in, and after a brief description of what I was looking for he walked me through some of the different options, helped me test ride a couple of bikes, and showed a lot of patience with all my questions and my 3 yr olds antics. I decided to think on it for a bit, and after talking it over with my wife we decided to go back up to the shop. I looked at a few more options, did one more test ride, and made a decision. We also decided to pick up a Wahoo trainer, which Parker also did a great job of explaining to us. As a nice perk the bike receives free tune ups for life. All in all it was a great experience, I'm thrilled with my purchase and the service I received, and excited to have such an awesome LBS right around the corner. I highly recommend Roswell Bicycles if you're in the market.

So far so good. Have not made a purchase yet but into visit resulted in a very positive experience. Staff is very helpful and knowledgeable. They explain everything from bike options to purchasing process which includes a custom bike fitting. I will likely but my next bicycle here at which time I will update my review. Update: I have now been back many times and purchased my bicycle, many accessories and service at this place. The service I receive is great. While they do sometimes peddle one brand over another they do explain all options. I do love to support local businesses even if their prices were a bit higher but admittedly they are very competitive. My store of choice for bicycle needs in the foreseeable future.

Bought our 11 yo a bike today. Taylor was very knowledgeable. Took the time to answer all questions. Great service. Will be back again.

Absolutely incredible experience. I went to Roswell Bicycles looking for a bike for the wife and was amazed by the level of information and help by the all the staff. I compared the products and prices to online options and gladly went back to Roswell Bicycles for the purchase. The bike, the accessories and a carrying rack purchase was so good, I picked up a new bike for my Grandson for Christmas. If you are looking for a bike or bike accessories, give them a chance to earn your business.

Opening Hours
Mon

Closed

Tue

5:00 pm - 9:00 pm

Wed

Closed

Thu

5:00 pm - 9:00 pm

Fri

Closed

Sat

Closed

Sun

Closed
Authorize your self with either of these to view contact details, your information will not be shared to any one
Newsletter Subscription for Virtuous Reviews LLP
One more step and you will be subscribed to our newsletters
We have sent you a verification mail on your email id, please verify it.