Sea Crest Nursing and Rehabilitation Center
#94 in USA
#32 in New York
Centers & Stores
3035 West 24th Street, Brooklyn, NY 11224, USA
Claim Listing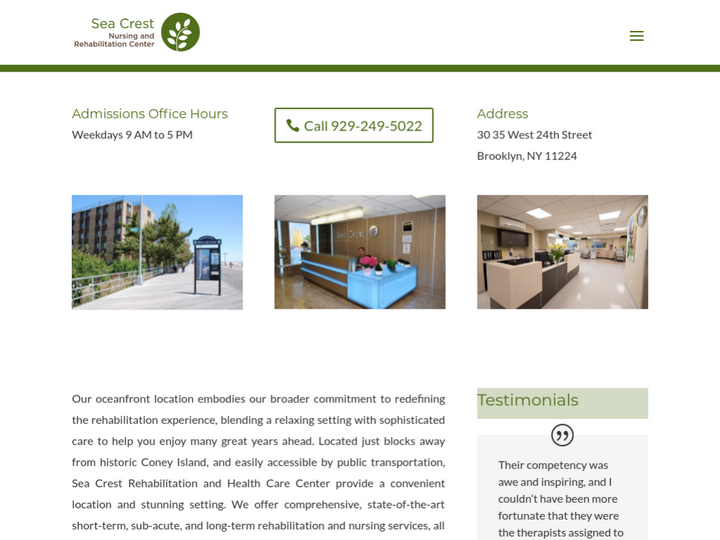 Company Description
At Sea Crest, we are redefining the rehabilitation experience. We will provide you or your loved one with an unsurpassed level of care that will nurture body, mind, and spirit.
Review & Rating

A very nice old people's home. Kind and polite medical staff.

The experience at this facility is horrible. My mom was a patient there for over a month. The staff was very rude, and didn't do their job. When she ask for help they took a long time to respond. Left her on the bed pan n with soiled diapers. And also gave her a medication that she was not suppose to be taking. To make her lethargic n sleep. Didnt give her the meds that her doctor prescribed. Because they didn't want to keep changing her diaper. I'm speaker for all patients. They treat people like animals. Some one need to do an investigation on this facility. Last but not least. The bathrooms are so dirty.

Hi my grandpa was in Sea Crest for a long time and the staff was great . And i always loved eating upstairs at the cafe with him . The care he got here was so good he was able to walk again after he had a knee replacement .

My sister just spent approximately 3 weeks at SeaCrest. I believe they were giving her medication she was not supposed to get. When I asked why she was so lethargic whenever I came to visit they said it was probably the Valium she was getting. She was not supposed to be getting Valium on a regular basis. Then her blood pressure dropped to a low number and I suggested she go to the hospital. They said they would monitor her. I had to contact her surgeon to get help to get her to the emergency room. She probably would be dead if I didn't get her to the hospital. There were other patients there at the same time as my sister that also believe they did not receive proper medical care. Keep looking!!'

This is the second time someone in my family has used this facility. First time was in 2013 with my dad. He had alot going on and they did everything possible for him. He had to leave there and go back to the hospital. Unfortunately he passed away. Now again with my mom who fell and broke her hip and hand. She had a total hip replacement. We wanted this to be the place she would have her therapy.

My Uncle is 86 he likes it and they take good care of Him

After my hip surgery, I was transferred into SeaCrest Care Center. There, I was very satisfied with the politeness and friendliness of the staff, and I felt very welcomed there. -Tamara Sarkisyan

I was there twice and was treated very nice they have many things going on for the patients. I wouldn't hesitate using their service again. Its right next to the beach you get great sea breezes

My brother checked in there after back surgery which he was expected full recovery and died 7 days later. He said he was uncomfortable and asked to be seated in the nurses station so they could watch him. They told me that he was at the nurses station and they looked up and we was dead. Some care. Beware.

Sea Crest is a fabulous nursing home! As we service the vending machines here I witness how each and every resident is being taken care of with all their needs. The place is always spotless clean and the staff members are so nice and friendly.

Daughter With Father In Nursing Home
UK
The only reason I am giving this place a 3 star review is because of one of the nurses aide, very sweet, attentive and friendly with my dad (who is currently here). Other than that, can't say the same of the other aides. My dad soiled himself i paged someone at 2:35pm and it's 5:31pm and he's still soiled. 2. Nurse aides passed by and just said oh ok and nothing. Some of these aides walk by the room as of their 💩 didn't stink. Seagate nursing home is so much better than this dump. If it wasn't for the fact that my dad needed dialysis, he would not be here.

Opening Hours
Mon

Closed

Tue

5:00 pm - 9:00 pm

Wed

Closed

Thu

5:00 pm - 9:00 pm

Fri

Closed

Sat

Closed

Sun

Closed
Authorize your self with either of these to view contact details, your information will not be shared to any one
Newsletter Subscription for Virtuous Reviews LLP
One more step and you will be subscribed to our newsletters
We have sent you a verification mail on your email id, please verify it.