Sentry Auto Group
Auto Dealers
4100 Mystic Valley Highway, Medford, MA 02155
Claim Listing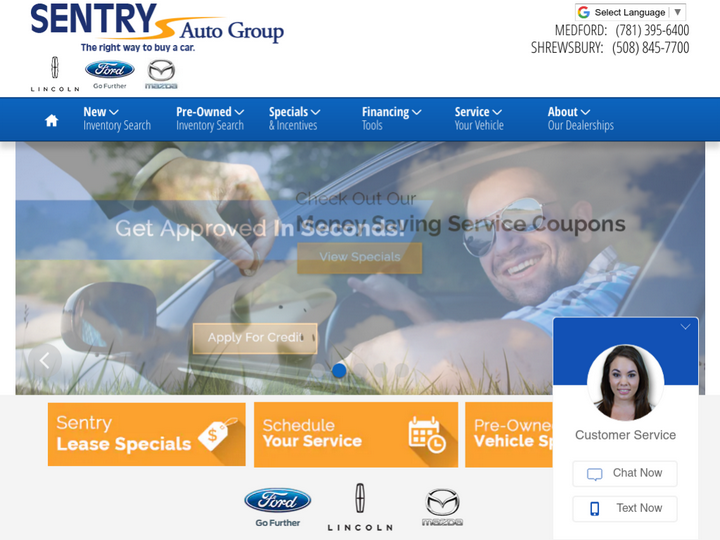 Company Description
Fraser Lemley, founder and CEO of the Sentry Auto Group, started in the car business at the age of 17 at a dealership in northern New Jersey. His first job was to stock parts into inventory and to drive a truck delivering parts to wholesale accounts. Over the course of his 10 years in various positions in that parts department, he helped create the largest wholesale parts operation in the New York metro area.
Review & Rating

I bought my Ford Five Hundred at Sentry Ford, Medford, in May, 2006, and have been bringing my car there for all service. In almost twelve years of going there, I have NEVER had a bad experience in their Service Dept. whether bringing my vehicle in for maintenance or for repairs. On 2-6-18, I brought my car in for the "Works" package, and found the Service Rep friendly, professional and knowledgeable. I had an 8:30 a.m. appointment, and the work was done quickly and efficiently, and I was on the road at 9:30. I am really impressed that Sentry has maintained such a high level of excellence, and highly recommend Sentry Ford, Medford, to anyone looking for a new car, or a reliable service department. If the best rating a dealership can earn is five stars, Sentry Ford deserves SIX STARS! Thanks, guys – Keep Up the Great Work!

Had a good experience leasing a car from Sentry two years ago. However, service followup has been frustrating. I have tried bringing the car here for oil changes, but there's always a two hour wait even when you book an appointment. Now, I am having a battery issue with the car -- probably just a defective battery. Car is still under warranty. Tim in the service department has given me two options: an appointment a week from now, or "leave the car with them for a few days and they will try to fit it in" if the battery dies and it becomes undrivable before then. The reason I leased a car was because I didn't want to deal with maintenance headaches -- and now I have a car with an issue any mechanic could fix in ten minutes, and am stuck dealing with an unresponsive service department when my car is barely drivable. Needless to say I expect to go elsewhere when my lease is up next year.

I've bought my last 5 F-150 from Sentry Ford!! Billy D in sales the best!! Patty G in Service none better!!i know when your vehicle is down it's a huge inconvenience and maybe a hassle. They go the extra mile to get you in and out.

My husband, myself and my son have purchased many cars over the last 30 years or better from Sentry Ford & Sentry Lincoln. As a matter of fact we have purchased three new vehicles recently my husband bought his fourth Explorer (2016) my son bought his Ford pick up truck(2017) and I bought a Lincoln Continental (2017). the service is excellent, the people setting up the appointments are very friendly and I cannot say enough about the Sales people we deal with. Especially Sonny who is the one who sold me the Lincoln. I always recommend Sentry Ford/Lincoln.

Service is not that great. Unfortunately I have been complaining about a thumping noise for over a year. Each time being told they did not hear any noise. Each time in for service, I again tell them about the thumping noise. Finally over a year of complaining, they now say the noise is from my tires being scalloped. It took them over a year to make that conclusion! They tell me I need 4 new tires (have their tire warranty but was told it is only for flats). They tell me everything is good, suspension, springs, etc. but cannot tell me what the cause would be for tires with only 34,000 miles to scallop. Only said I need new tires! Mind you, if the noise is actually from scalloped tires, then the noise started when only 19,000 miles on tires! Needless to say, going and getting second opinion. Car is a good riding car but the service has made me decide to never get another Lincoln. Oh and one of my oil changes, the mechanic did not put the oil cap back on. Oil all over my engine and on my new cement driveway! I'm sure they are sorry now they sent me an email asking for my opinion.

Incredibly disappointed in the service of this dealer. I went in to get my car serviced at the dealer as my home garage informed me that I was facing a dealer-only part fix. Throughout the process I had to continuously chase the "advisor" I was working with to get any information on the process of getting my car fixed. We set specific times to check in, and I was never called. I called multiple times a day trying to speak to the person handling my repair, left messages on voicemail and with coworkers, and still did not receive calls back. No responsibility was ever taken , the individual was more concerned with pushing off any culpability. Throughout the process they attempted to continuously upsell me on unnecessary work. I was quoted ~$1000 for total repairs (parts and labor) at the beginning of the process, which I agreed to. When I came to pick up my car, they attempted to charge ~$1700. When I produced documentation on the exact prices I had been quoted - parts and labor - the person I worked with told me that ~$1300 was the "absolute lowest he could go." Pretty disgusted and disillusioned with Sentry Ford. EDIT: After posting this review, Sentry Ford reached out to me and offered a full car detail or free oil-change/full tank of gas as compensation for the disappointing service. I decided that I would leave this review up as an honest depiction of what my experience was, but also show that they did reach out afterwards to try to make amends.

I love Sentry - sales, services!! I trust them completely! I know the health of my Focus is important to them and that contributes to my safety! Thanks Bruce, Scott and Bob!!

I'm originally from Buffalo, NY and I'm stationed in Boston as active duty military. There was a recall on my 2015 Ford Fusion and I had it towed to this very dealership because there was a problem with my steering, I had no power steering whatsoever. Long story short Sentry Ford quoted me $2k to fix a vehicle I had only 2 years. Ford's terrible customer service reps forced me to tow the Fusion back to the dealership in Buffalo, NY from Medford, MA. I called the service department twice to verify that my car and keys would be placed somewhere easily accessible for a tow to come and pick it up after their work hours. Instead, upon arrival my car was in the back lot of the dealership without the key. I proceeded to trailer my car despite them not keeping their word but I guess because I wasn't going to be spending any money there they could care less. Once I had the car trailered and was ready to get on the road there was one problem. Both gates were closed and I found myself locked in the back lot of the dealership with no way out. I was then forced to call the police to come and get me out of the dealership which was traumatizing, due to the fact that I am an African American Male trapped in a car dealership after work hours. Sentry Ford's service departments blatant disrespect and neglect of how to properly conduct business I am forever scarred and will never consider a Ford product in the future and I will advise anyone who wants to do business with this dealership to look elsewhere.

I purchased my 2006 Ford Mustang GT at Sentry Ford back in 2014, during the original visit when looking at the car, although in great shape, I had noticed a small area at the front edge of the hood that had peeling paint, I remember my wife asking if the dealer would fix that if we purchased the car, the salesman assured us they would, but when we purchased the car he suddenly sang a different tune. I end up replacing it with an aftermarket hood. The service department has been the opposite, meaning I have had nothing but great service and experience when bringing my car in for scheduled service. If not for that unpleasant sales experience, I would had given 4 stars instead of 3.

My daughters 2012 Ford Focus was having major transmission issues. No reverse, check engine light saying the transmission was overheating, finally the forward drive started quitting. We visited Sentry Ford on a Monday morning. We were told at least 4 weeks. We decided to try to limp her poor car over to Watertown Ford in the pouring rain. We barely made it. They told us 2-3 days. On Wednesday, 2 days later, it was fixed. No charge. Plus they gave us a ride to the Red Line Alewife station. When it was ready, they came and picked up my daughter. Guess who gets our business next time?

Opening Hours
Mon

Closed

Tue

5:00 pm - 9:00 pm

Wed

Closed

Thu

5:00 pm - 9:00 pm

Fri

Closed

Sat

Closed

Sun

Closed
Authorize your self with either of these to view contact details, your information will not be shared to any one
Newsletter Subscription for Virtuous Reviews LLP
One more step and you will be subscribed to our newsletters
We have sent you a verification mail on your email id, please verify it.