The Annex Detroit
Clubs
24B WEST ADAMS, DETROIT MI 48226
Claim Listing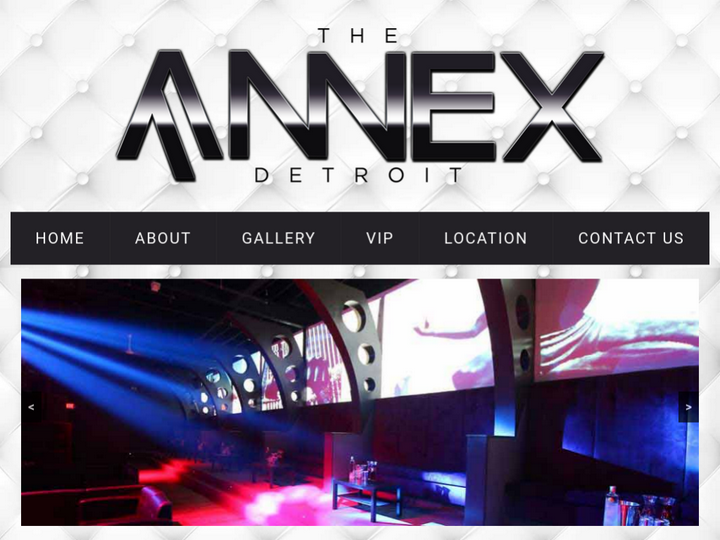 Company Description
Since opening the doors, The Annex has redefined nightlife in downtown Detroit. Sister club to 3Fifty Terrace, Detroit's premier rooftop venue. Sip, dance, and mingle with metro Detroit's beautiful people, young professionals, athletes and more while you enjoy our state of art sound and lighting system, Co2 cryo show, and our unrivaled audio-visual experience.
Review & Rating

I had my party there this past March 23rd, I'm only giving 2 stars because I did like the crowd and the Dj, BUT THATS IT!!! Booths were paid for in advance... I WAS TOLD UP FRONT I COULD PAY FOR MY BOTTLES IN CASH...they asked for my drivers license and credit card, only to make sure I didn't run off without paying.. I asked what for ?? If im paying in cash for everything ? THEY NEVER EVER DISCLOSED MY CARD WOULD BE RAN AND Money HELD...AS A MATTER OF FACT THEY SAID IT WOULDNT BE RAN OR money HELD! AFTER I ALREADY PAID CASH FOR ALL OF MY BOTTLES!!!! THEY DID!! When I finally contacted the owner they told me I would need to handle it myself they could not complete the request of removing the hold on my card, I would need to allow it to release on its own. Please do not allow them to take your card if you plan to pay cash because they lie and do not disclose all that is going to happen!!!!!

Had fun on my birthday but it took a minute for the night to get moving.

This club was the worst club I have EVER experienced in my entire life. They made us wait out in the absolute freezing cold, although we had $60.00 tickets that we bought for New Year's Eve. I have been to clubs in many different cities and states and this had to be the absolute worst.....I cannot understand how their management and organization could have been so horrible. I hope this club either closes or gets their organization together sometime soon so others don't have to suffer through the same inconvenience and freezing cold temperatures that we did.

We paid $70 4 days in advance to get in and they didn't let us in and didn't give us our money back. They gave us no explanation for not letting us in. Don't go to this place, they are con artists. They made 130 plus people wait outside after buying tickets and didn't let them in. Don't go here.

I highly recommend this club. Not only are the staff and security very professional, this is a club I'd recommend out of State folk come visit... Always a good time and experience.

Honestly this is my first review ever. I'm just so overwhelmed with the disaster that has happened tonight. At the end of the night I went to get my coat from the coat check, I had gave them 2 tickets. First ticket was my wife's jacket and second was mine but they gave my coat away to some random person that had NO TICKET and had said they described my CANADA GOOSE coat. My wife was furious because she had gotten me that coat for Christmas. I really don't understand how if someone says they lost their ticket they should wait until the end of the night until all the coats clear out and if they claim that in the end it's their coat then it'll be that owners. Not only did they mishandle my coat, my car keys and my apartment key were in my coat. So that being said I had to wait outside in 22 degree weather with just a T-shirt on for 30 mins until my friend came to pick me up. Then I had to call maintenance and pay the guy a $25 fee to have them come open my door to get inside my apartment. I honestly have never wrote a review at all but it clearly was such a bad incident that occurred. I'm pretty sure that the person that took off with my CANADA GOOSE coat will not return it. I'm definitely looking forward to how this will be handled.

All their security guards smoke crack or meth and are very violent towards patrons. Very scary atmosphere to say the least.

They kicked me out because some Guys was smoking three sigs and he pushed me on the floor and he called the secretary to take me out because he was a fire hazard. That's ok. Never going there again!

Good music and such a great environment! I always have a blast when i go !

All the security was extremely rude , when checking my ID the guy looked me up and down in disgust. I was dressed nice and I was friendly he was trying to make me feel uncomfortable and intimidate me why ? I'm not sure. First the club wasn't even packed or full somewhere else would have been more fun. If my friends weren't already there I would have never spend a dime at this place.

Authorize your self with either of these to view contact details, your information will not be shared to any one
Newsletter Subscription for Virtuous Reviews LLP
One more step and you will be subscribed to our newsletters
We have sent you a verification mail on your email id, please verify it.