The Naked Bite
School
6600 Betty Cook Dr, Austin, TX 78723, USA
Claim Listing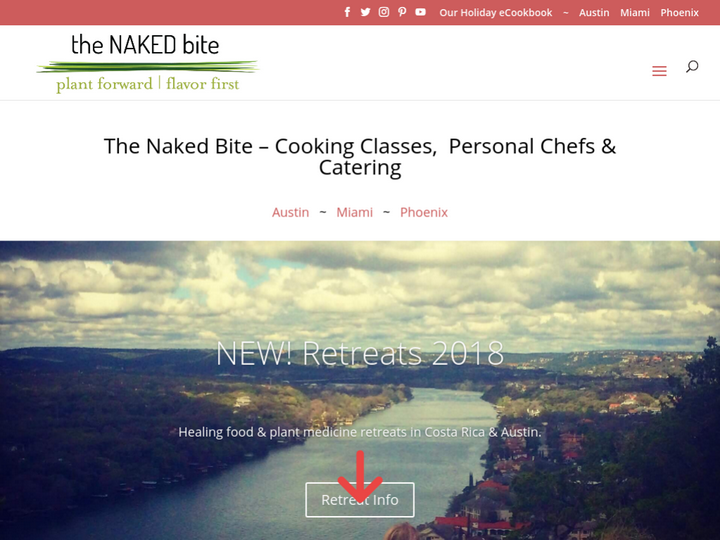 Company Description
The Naked Bite offers both public and private cooking classes, personal chef services, boutique catering and pantry makeovers in select cities across the United States. By focusing on local, organic and ethical ingredients, we create vibrant and flavorful, vegetable-inspired meals that boost our whole being—body, mind and spirit.
Review & Rating

I have been to a couple of The Naked Bite cooking classes and both were unique and offered interesting and delicious recipes, actually the food was fantastic. This piqued my interest if I could eat this way all of the time I would certainly eat so much healthier and enjoy the process! I reached out to Amber and she and her team began weekly personal chef services for my wife and I. What a change! The food is ready in the fridge whenever we need and our dining out and grocery bills have gone down. We now eat a more well rounded diet full of fresh, local veggie and other clean foods, we couldn't be happier.

My sweetheart and I took a class with Amber on the basics of Thai cooking as we wanted to get a better understanding of the fundamentals. Amber's class was a delicious balance between education and entertainment. We shared the experience with around eight other very friendly and interesting fellow food enthusiasts. Some were repeat attendees and raved about her previous classes. During the coarse of the evening she shared her techniques, cultural knowledge, humorous anecdotes and shopping sources as well as her well written recipes. Needless to say the food was delicious. We are now fearlessly experimenting with Thai cooking in our own kitchen and are looking forward to exploring other cuisines through her classes. I have since hired The Naked Bite to execute some personal chef services for my business, we get rave reviews.

I can't recommend The Naked Bite enough for personal chef services. Their team is extremely accommodating and our chef Christina makes incredibly delicious, healthy and vibrant meals. We've been using them for 6 months now and I can't imagine what we did before we found them.

I have taken a couple of cooking classes with The Naked Bite and I have learned so much and been re-inspired to cook again. Not to mention that the food is always unique and layer with flavor. A fun and informative night out!

I received a gift card for a cooking class with the Naked Bite. Amber was great and her mission is to make vegetables delicious and accessible was accomplished in our class. Because our class size was small, we were able to have a hands on class which was really fun and helpful. Her recipes were delicious and simple enough to duplicate at home.

I attended an event last night with my colleagues and LOVED IT. Amber was amazing - she gave us the option of helping her cook the courses, or sit back, drink wine, and enjoy each other's company. Though all 5 dishes were off the charts (seriously - so. good.), the Thai Coconut Carrot Soup was the clear winner. So glad I got the recipe for it - I'll be attempting to recreate it sometime soon. If I could give this more than 5 stars I would, and I'm definitely going to keep this in mind next time my family comes to visit me in Austin!

We absolutely loved our dinner last night! Christina did an amazing job, and the food was delicious! The flavor combinations and the fresh, vibrant ingredients made every dish stand out. I could not pick out a favorite because I loved each one so much. Our guests were equally impressed, and we all agreed that we will call on The Naked Bite for future catering needs. From our phone call discussing food preferences to the spotless kitchen counters at the end of the evening, Amber and Christina made this an effortless, wonderful experience for us. We would not hesitate to recommend The Naked Bite to others.

We did a private cooking class for Mother's Day. It was the perfect "experience" gift. In the comfort of our kitchen we made four delicious recipes and learned many tips and tricks along the way to make cooking more enjoyable. It was a memorable day and Christina was delightful! The service leading up to and the execution the day of were top notch. I would highly recommend The Naked Bite and will be using them again!

We scheduled a private cooking class for a bachelorette party in Austin, and had an amazing time! Chef Christine and Chef Kelly were both wonderful and made the experience so fun for us. They encouraged the session to be hands-on and gave us some cooking tips that would help us make other meals at home too. The cherry on top was that they quickly and efficiently set up and cleaned up the event so that the kitchen and dining area were absolutely spotless when they left! Amber is also wonderful to work with and took special interest in customizing our event for our needs and tastes. We would highly recommended The Naked Bite for any event!

We are always delighted with the meals Kristin prepares, and our overall experience with The Naked Bite. Amber and Kristin worked quickly to dial-in our tastes while expanding our horizons with much healthier choices. They crave feedback every week and respond exceedingly well to any we offer. The recipes offered and executed are routinely balanced in flavors and texture (an unusual attention to textural variation in my experience, elevating our experience all that much more). We unequivocally recommend The Naked Bite, Amber, and Kristin for your culinary needs ...

Amber is a talented & knowledge, professional chef who is friendly and helpful. She was able to show me simple, healthy recipes I have been able to re-create in my own kitchen. I was able to have all my questions answered. , regarding shopping, preparation and cooking. Amber also helped me understand the pros/cons of different plant based menu choices. I have replaced my post workout energy bars with a nut/date/seed energy ball that I make myself in minutes! Anyone looking to be inspired in their food and cooking should contact Amber.

Authorize your self with either of these to view contact details, your information will not be shared to any one
Newsletter Subscription for Virtuous Reviews LLP
One more step and you will be subscribed to our newsletters
We have sent you a verification mail on your email id, please verify it.