Access Medical Equipment
Hire
9550 Aurora Ave N, Seattle, WA 98103
Claim Listing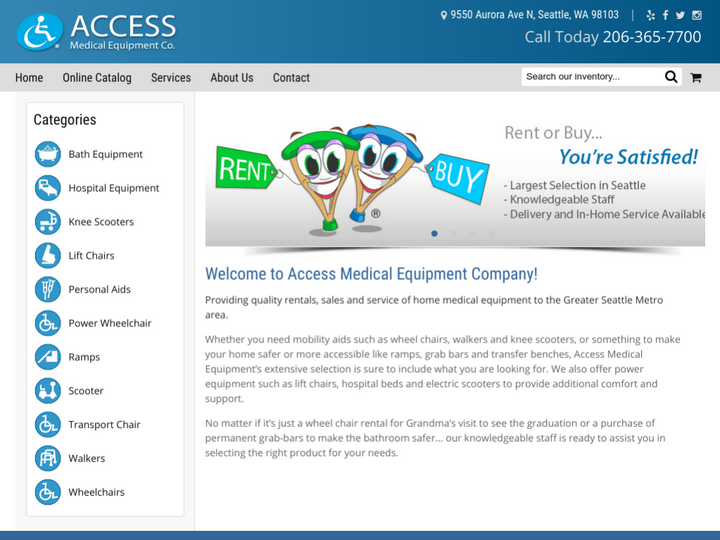 Company Description
Whether you need mobility aids such as wheel chairs, walkers and knee scooters or something to make your home safer or more accessible like ramps, grab bars and transfer benches, Access Medical Equipment's extensive selection is sure to include what you are looking for.
Review & Rating

First time customer, was treated rudely on the phone. I came in anyway thinking maybe the lady was having a bad day.. Needed a wheel chair for one day. Im on crutches and not allowed any pressure on my foot. Zero help out with item and when I brought it back, I was asked to put the wheelchair elsewhere. Remembet im on crutches. I came here for help. Worst customer experience I have every experienced.... Going back to where I usually go..A bit out of my way, but they help you all the way.

I visited this place after I came down with a back condition that makes it very painful for me to rise from a reclined position. Joyce showed me how an electronically operated lift chair would make it possible for me to go into and out of a reclined position without experiencing a lot pain. I ordered one of the chairs, and it was delivered promptly. I am extremely pleased with the chair and the service I received, and I am grateful to be able to rise out of reclined position without being caused to groan, cry, or wail.

very knowledgeable staff and helpful, they are very accommodating have have sent me references for other stores if they could no provide what I was looking for.

Had what I needed. Clean shop with good selection.

We had a great experience getting all the equipment we needed to help my husband after back surgery. They had several options for each need we had (toilet seats, shower stability/accessibility, etc) so we were sure to find something that worked for our particular bathroom & house. They delivered the lift chair we needed to our house, which was so helpful, as I didn't have the capability to pick it up, unload it, etc. Having the equipment we needed made an unknown and scary situation seem so much more manageable. The person that helped me had many suggestions and solutions I hadn't thought of but needed. Knowledgeable staff, great products, many choices, easy location, easy parking. Thank you for being such a great help!

Great services, affordable, good selection.

I had a very good experience with this business. I recently had unexpected surgery and needed a variety of items; lift chair, hospital bed, walker etc. I chose to rent many of the items, which is so great, because who wants to own these items if you don't need them long term? I found that they do not take insurance, but I was able to submit my receipt to my insurance for some reimbursement. The thing that really stood out to me was how quickly they could delivery the items. And, all the equipment I rented was in perfect 'like-new' condition. Thank you for providing such quick and friendly service.

We are from Alaska and husband had shoulder surgery in Seattle. We requested a power lift chair and small left-hand table to be delivered to our hotel room by the time husband was discharged from the hospital and picked up the morning we checked out. The only hiccup was that we received a right-hand table instead of the left-hand table. When I called Access, they immediately owned the mistake and, since a left-hand table was unavailable, we were credited the cost of the table rental and allowed to use it for the week anyway. It was a pleasure working with this company and we highly recommend them to anyone who may need to rent equipment. This company will work hard to ensure you are satisfied.

Good: Open on weekends, unlike most Seattle medical supply places. The store is well-organized. I was a little surprised there wasn't accessible parking for wheelchairs or a wheelchair friendlier door, but that seems mostly out of their hands? Bad: Customer service. Prices, and they don't bill insurance. Next time, I'll do Amazon if I need to pay out of pocket. It was 30% cheaper for what I needed, *and* included more gear. Or, I would just go elsewhere if I needed it right away. Basically, "okay, if you have few other options".

Very good experience both in the store and at delivery. Right on time. Staff is very helpful and knowledgeable.

I came in for a wheel chair for my father in law, and through discussion with a very knowledgeable staff member, left with a transport chair that is exactly what we needed. The transport chairs are much less expensive than the wheel chairs, and I greatly appreciate the honesty of the staff member, who enthusiastically guided me to the correct decision, in spite of the sale yielding a lower profit to the store. I was allowed to rent the transport chair and apply the cost of the rental to the total, if we decided to buy it (which we did) and, furthermore, they took $80 off the total because it had been previously rented. I am thankful for their input, their protocols and their inventory. Muchas gracias!

Opening Hours
Mon

Closed

Tue

5:00 pm - 9:00 pm

Wed

Closed

Thu

5:00 pm - 9:00 pm

Fri

Closed

Sat

Closed

Sun

Closed
Authorize your self with either of these to view contact details, your information will not be shared to any one
Newsletter Subscription for Virtuous Reviews LLP
One more step and you will be subscribed to our newsletters
We have sent you a verification mail on your email id, please verify it.