All In The Wrist Auto and Diesel Repair
Auto Repairing
2400 San Mateo Pl NE, Albuquerque, NM 87110
Claim Listing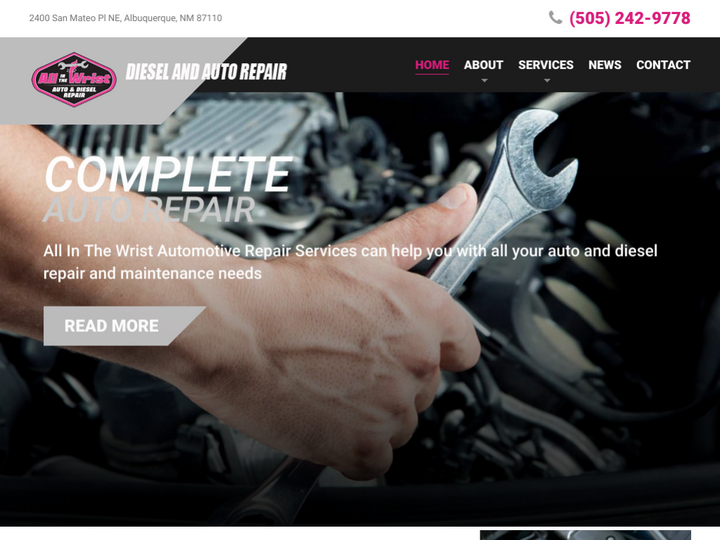 Company Description
All In The Wrist is a woman and veteran owned and operated automotive and diesel repair shop. With more than 25 years experience, we provide honest and expert service, and strive to communicate effectively with every customer.
Review & Rating

I took my car to the previous owner of the shop for many years and was totally satisfied with their work. I decided to give Mollie, the new owner, a try. In most professional auto mechanic shops today they use software to provide you a standard pricing estimate for specific work, ie spark plug replacement, timing belt replacement, etc based on industry averages. Mollie's estimated cost was $800 less than the dealer, which did not surprise me and I was pleased to hear. From experience I expect the actual work to increase by up to 10% due to parts and labor overruns. Shops always up-sale other services once they do their inspection. I expect all this. She could not get to the job for two weeks leaving me without the use of my vehicle. When they finally got my car and called after their initial inspection they told me I needed few other items repaired, which was expected. What I did not expect was them telling me my price for the same work was going to cost me at least $700 more than the original estimate, putting the cost right in there with the dealer. The lame excuse was that they did not realize what was involved to do the work, really? I asked before if they had experience with the work and I was assured they did, plus an estimator program tells the average parts and hours needed to complete the work. On top of this one of the up-sale items needing service was a motor mount leaking oil and needed replacement. I confirmed with the dealer that no motor mounts contain oil on this model and they were trying to sell a part not needing replacing. I ended up taking the car to the experts at the dealership. It cost me more, but I knew they would do the work correctly and with a warranty. I wasted two weeks time and $95 for a diagnostic fee at this place. In the end, I guess I should be glad it only cost me this much. I would not trust their word and would always get a second opinion.

Darlene gave a great price and said she wouldn't bait and switch me,but that is exactly what she did. changed the price 3 times. It would have been cheaper if I took it to the dealership. I actually had to take it to the dealership right when I got the truck back to get some fuel injectors replaced, which costed $1200. They didn't have to rip me off all the had to do was fix 3 fuel injectors. be careful... they will be so nice and tell you they know what they are doing, but once they start your automobile, you find out that they don't know what certain parts are or where they go. Also their whole demeanor will change when you ask them questions. Said my truck would be done in a week and they finished in 3 weeks and still had to take it the dealership to because they didn't fix the problem. Also had to redo all the hoses when I got it back because Allan reconnected them where they were pinched shut so no coolant could flow through and put them next to the hot engine, which is really bad.

Even though I had to make two trips to get the work done, I'm very happy with the work that was done on my CRV. Mollie and her crew do very good work efficiently for a reasonable amount. I recommend their work to anyone who is on the lookout for an honest, reliable and knowledgeable mechanic!

All in the wrist is a great choice for auto repair and maintenance. It's nice to have a mechanic who is fast, friendly, efficient and skilled. I would definitely recommend this shop to anybody.

Helpful, trustworthy, and knowledgeable. Mollie explained my car to me and made me feel comfortable.

All in the wrist auto repair provides excellent service! Great prices, quick service, wonderful customer service! It is so nice to have an honest mechanic! Love it!

great place. I got work done on my car and it drives like new now. Very professional and yet friendly.

Great and very friendly Molly is the greatest. Will explain everything before hand and will not change you arms and legs

Fixed my truck was not expensive either Molly and they people there are Awesome

The people of All in the Wrist really know what they're doing! They're honest and good people with reasonable prices. I'm thrilled to finally have a diesel mechanic I can trust and rely on. I definitely recommend them.

They are so wonderful to work with. Drive all the way across town to come here due to prices, honesty and turn around time. Way better than the chain repair shops.

Opening Hours
Mon

Closed

Tue

5:00 pm - 9:00 pm

Wed

Closed

Thu

5:00 pm - 9:00 pm

Fri

Closed

Sat

Closed

Sun

Closed
Authorize your self with either of these to view contact details, your information will not be shared to any one
Newsletter Subscription for Virtuous Reviews LLP
One more step and you will be subscribed to our newsletters
We have sent you a verification mail on your email id, please verify it.