High Meadows School
Preschools
1055 Willeo Road, Roswell, Georgia 30075
Claim Listing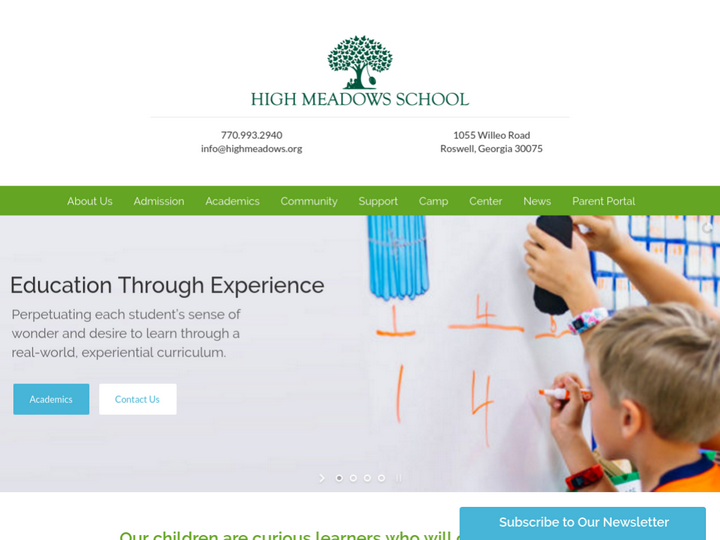 Company Description
Each school day, our students learn through the experiential, immersive educational opportunities provided in our classrooms and across our grassy fields and scenic woodlands.
Review & Rating

High Meadows School has been not only an enriching and successful academic environment but the teachers and administrators have played a significant role in my children's life.

My children grow and thrive every day. The teachers honor each individual and support them academically, emotionally, and socially. This place really IS what school should be.

My mother taught preschool there for years while I was growing up. I attended day camp there for a couple summers. I remember it being a very unique place and had a lot of fun there

This school has been home and family for my children for 12 years. I can't think of a better environment for them - they are engaged and have emerged with the curiosity, passion, and critical thinking skills to be lifelong learners who embrace diverse thinking styles and viewpoints, advocate for tolerance, and understand their responsibility as global citizens. Best decision we've ever made for our children.

Jenni Washington Crenshaw
UK
High Meadows is a place where my children are enabled to learn not where they are simply taught. To understand the power the school provides, you only need to walk onto campus and listen to the middle school children , see the interactions of multiple ages at meadow, or watch a pre-school child take action to change their environment to know that we are creating global citizens who will change the world.

Having both my daughters attend High Meadows from preschool all the way through the Middle Years program was the best parenting decision my husband and I have made. The lovely part is now that they have graduated, I am seeing all the payoffs for the sacrifice in making this happen. Both of my girls have excelled in Public High School, they transitioned from a very small graduating class at High Meadows to Roswell High School just fine. Their grades have been stellar but most importantly, they both loved High School. I have one at Auburn Nursing School and she has been able to handle Chemistry, Mathematics and Biology with great grades, all the weed out classes are now behind her.

With kids spending 25% of their time outside not only playing but learning this place is unique in the Atlanta metro area! Our kids are thriving there, not only learning academically but learning how to advocate for themselves, inquiring not just memorizing and gaining an appreciation for their world all at the same time. The teachers are amazing, 2 per classroom, and most have masters degrees. We highly recommend this school!

When your kids jump out of bed each morning excited about school and the adventures that lie ahead for the day, you are thankful for that place. When they come home with so much to share about what they experienced it's like they are going to burst, you are grateful for that place. When you see what well-rounded people your children are becoming because of how well their teachers know them, you are indebted to that place. This is High Meadows for us.

Hands down THE best place for education! The progressive, nurturing environment has engaged my middle-schooler in a way that has allowed him to find who he is and where his talents truly are. The small classrooms, time outdoor, and integrated curricula have helped him understand how science, literature, and history all interact. I cannot recommend this wonderful school enough. I truly wish they continued through high school.

Theresa Nelson Robison
UK
We wanted something a little more active than traditional schools currently offer for our boys. Something focused on learning instead of memorization. Something to help them love learning and enjoy wondering. Critical thinking and an urge to grow as a person. We've found just that at High Meadows. What a wonderful school and community! I only wish I had gone there when I was a kid...

We currently have 2 students at HMS after trying out our special but still lacking public school.The focus is on creating life long learners and critical thinkers.My kids thrive from the time outdoors:problem solving, building forts at ,using their imagination. The curriculum is so rich and deceptively structured, it's what most public schools try to supplement with in Target or TAG programs; HMS kids get it everyday.THIS is what school should be for every child.

High Meadows is an incredible place of wonder for children. It has been the academic home for all three of my children. I could not be more pleased with the school. Thank you High Meadows!

There is no place in/near Atlanta like it. The education is first rate and the environment is perfect for learning and personal growth. Scholarships are available. If you want the very best for your children and you can get them to/from school you really should look at High Meadows.

Opening Hours
Mon

Closed

Tue

5:00 pm - 9:00 pm

Wed

Closed

Thu

5:00 pm - 9:00 pm

Fri

Closed

Sat

Closed

Sun

Closed
Authorize your self with either of these to view contact details, your information will not be shared to any one
Newsletter Subscription for Virtuous Reviews LLP
One more step and you will be subscribed to our newsletters
We have sent you a verification mail on your email id, please verify it.