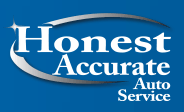 Honest Accurate Auto Service
#87 in USA
#12 in Colorado Springs
Auto Care
3905 Tutt Boulevard, Colorado Springs, CO 80922 USA
Claim Listing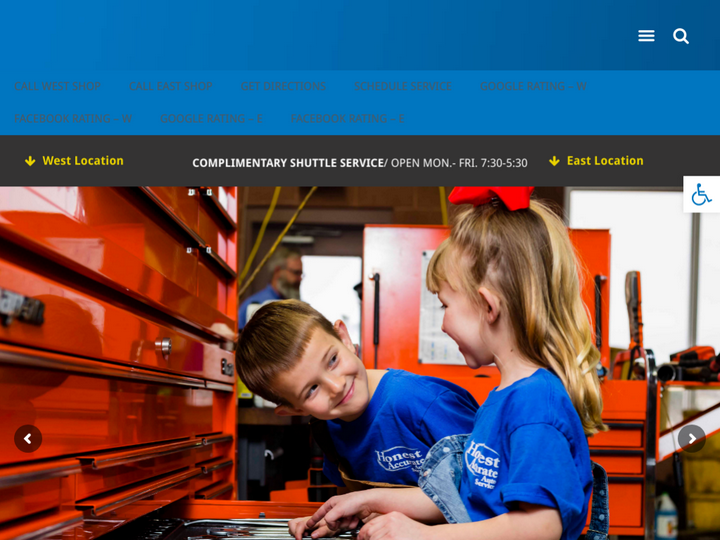 Company Description
At Honest Accurate Auto Service, Customer care and satisfaction are our top priority. If you are looking for scheduled maintenance, car service, oil changes, tires, alignments, timing belts, batteries, struts, shocks, brake repair, coolant service, or transmission repair, or auto repair in Colorado Springs, please come visit us.
Review & Rating

My wife set an appointment to get an oil change and dropped off the car in the morning of 4/24/2019. They told her several times that it would be done in roughly an hour. She made sure to check because she had other things scheduled. About two and a half hours later, she called for a status update and they said they had not started on it. They said they could only guarantee that they would be done by 5:30pm and told her she should have made their "other" kind of appointment if she wanted it done faster. There was no mention of this over the phone or when the car was dropped off (she double and triple checked), but they kept trying to push the problem back on her. She took the vehicle and left, as she had appointments in the afternoon that could not be skipped. Unprofessional to miscommunicate timing, though that could have been forgiven with an apology. Worse, it is unacceptable to push the issue back on the customer, when clearly the mistake is yours.

A very up front and HONEST business. I had a bumper to bumper inspection done, with some questions they took me in a actually showed me the issues. I will definitely recommend you folks. Thanks again Austin and Ted.

Great service, knowledge, professionalism, wonderful experience all around. Will come back for all my service! Thanks guys!

Great people that own that place. They know there stuff and don't play games with you about cost.

These guys are outstanding! I've spent more than 20 years of my career in dealership service and there is always a push toward maintaining customer satisfaction in these positions. It's just that not everyone is good at it. But Heath and the guys at Honest Accurate Auto are nailing it! I just finished a move from Austin to Salida and started having problems with my bus on the way up. I needed some fairly extensive and expensive repairs. I had a lot of questions, and was anxious for a diagnosis. They explained everything very clearly, leaving me with few questions to ask. Heath called me daily with an update, which was very nice. Their text messages are a big plus too. I had a few last minute questions for the mechanic and he too was extremely helpful and eager to answer questions. They treated me fair and finished up early. And they were honest about what I needed, and what I will need later, and why. I really cannot express how pleased I am with the entire experience here. If anyone asks where they can take their vehicle, I would feel very confidently referring them to this shop. An absolute top notch experience! UPDATED : In response to the owners response to the review above : Thank you too! And you should be very proud of your team. They really impressed me! And I also wanted to mention that they've got a great diesel mechanic. My bus is a diesel. And I've learned that you can't just walk into any shop and expect them to work on a diesel (or a giant bus converted into a motorhome).

We took our car in to have an alignment and did not know how long it might take but they were able to get us in the same day and did a fantastic job with our car. They took great care to work us in to their busy schedule which we so appreciated! I highly recommend Honest Accurate Auto Service!

The service was very good. I feel confident when I take my vehicle there to be serviced. I appreciate the effort that they put into working with my extended warranty company for the repair. My only criticism is the inconsistency with updates on the repair.

The staff was friendly and kept us informed throughout the process of receiving our estimate. We received text updates and then a complete list of things our car needed and the cost. We were able to get a ride to back to our house after dropping the car off.

As always, and again: Heath is amazing -the shop performs rapid service -the shops lets you know what is wrong and discusses what actually needs fixed to keep you on the road - the shop sends little text messages I like letting you know when your vehicle is being serviced and is complete -they actually change your oil when you ask for an oil change. (If this sounds strange, then you have never had a shop not do it and tell you they did!! But not these guys. Nice pure pristine oil changes ) -wouldn't change a thing about these guys - plus the Deisel mechanic actually owns a 7.3L powers stroke. Your in good hands.

Excellent customer service and knowledgeable staff. Ted is very helpful and always provides a great customer experience. Thank you Honest Accurate Auto for being my go-to auto repair shop.

Unfortunately I have to give a low rating only based on high cost of the service I was looking at getting done. I will say the facility is amazing - clean and the lobby is very cozy, you wouldn't know you were at a mechanics shop. Also, the employees I encountered were very professional and friendly. They also have a shuttle service that was very helpful. Another pro is they do offer a decent warranty on work they do - 3yrs, 36,000 miles. Another plus - they did find an issue that my extended warranty did cover. That was great as I didn't have to pay. My issue is specifically the cost of the parts - the labor was comparable to two other estimates I was given, but the parts cost were over priced in my opinion. They also stated they use OEM parts, so I called KIA and still the parts were marked up too high for my budget. If you are needing a lower cost mechanic and on a fixed budget definitely get an estimate first including parts to get the full picture of what the service will cost. My fist estimate over the phone did not include the parts so I was hit with sticker shock to say the least. My total was going to be $762 (not sure if that included tax). Another mechanic was at $500 as a high estimate, and my got to mechanic was at $345 including parts and parts were under $60. Also, I have been using this mechanic for several years and have had no issues with warranty items over the course of 6 years. Mind you, this is a no frills garage which allows for lower overhead and does not pass that onto the customer. If you like the robust warranty and the extra perks (shuttle, status updates via text, etc) you get using this shop then you will enjoy using their services...but be aware, you are paying for the perks in other ways.

Authorize your self with either of these to view contact details, your information will not be shared to any one
Newsletter Subscription for Virtuous Reviews LLP
One more step and you will be subscribed to our newsletters
We have sent you a verification mail on your email id, please verify it.