Medical College of Wisconsin
College
8701 Watertown Plank Rd., Milwaukee, WI 53226
Claim Listing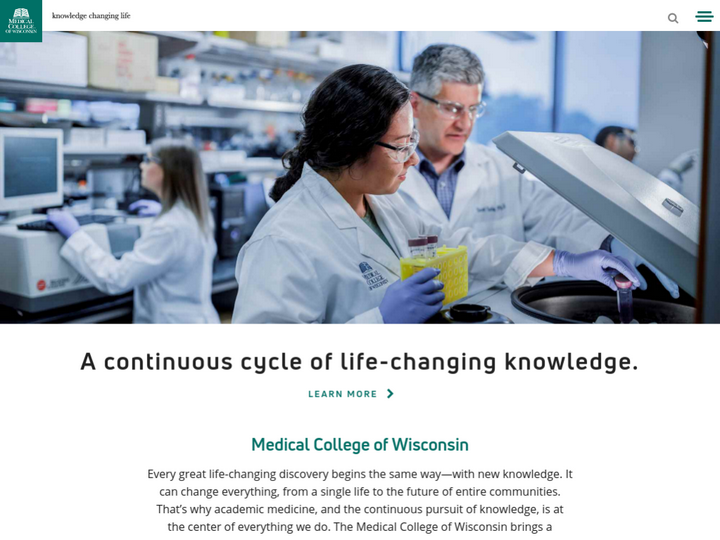 Company Description
A student, an educator, a scientist, and a community leader. Alone, they can do a lot of things, but together, the question isn't what they can do, it's what can't they. The Medical College of Wisconsin brings together the most inquisitive minds in science, medicine, education and community engagement to solve the toughest challenges in health and society today.
Review & Rating

Very professional and plenty of care and concern for the patient

Terrible place to work if you are a minority

Great place to visit...do not want to stay here tho!

My PET scan was misinterpreted as normal. I was misdiagnosed and then verbally attacked by their neurologist. A year of suffering later, I had to go to Mayo Clinic, where the PET scan was properly interpreted, and I was diagnosed with encephalitis. Urologists and endocrinologists misdiagnosed me as well, and I had to switch to other specialists. Where else in the world do they have medical doctors appointed as assistant professors without a doctorate degree!? Overall horrible experience and needless suffering.

The charges are robbery. The price for a 30 MINUTE consultation with a gastrointestinal doctor was $611.00. Nothing was done but talking, advice, and another referral. That kind of charge is outrageous and an insult to patients ... and the reason I am hesitant to go to or trust health care systems.

Hospital is good, no issues there at all. Their billing is a complete nightmare however & I'd only go there in the future if it's a life threatening emergency. I'm still getting bills/collections for my daughter's surgery in 2013, YES 2013. I have & always have had good insurance & I've already paid money out of pocket for other bills related to the surgery. It seems like I pay one thing, then they bill me for something else later when I think it's all good. Idk what's going on & it makes me think they're just bombarding me with miscellaneous bills to confuse me. I requested an itemized bill so I can see what mistakes they're obviously making to apparently overcharge me. That was over a month ago but I've still received NOTHING. Meanwhile they're screwing up my credit. It's totally ridiculous & highly frustrating. I asked their collection agency, State Collection Service, if I'd get a receipt thru email if I paid one of the bills right away. She flat out told me NO & said I'd have to pay each separate bill (total of 6) before they'd send me any receipts! Pretty sure these people are crooks.

Hospital is great but the billing department is unorganized and doesn't care about the patient. I went thru over a million in treatment and every time the billing department OVERBILLS and tells you there going to correct it. When you think there working on correcting it they send it to collections and tell you they can't do anything once it's there. Makes me want to switch hospitals.

CAUTION - ask ahead of your visit if they will bill as a "consult" or an "office visit." Insurance coverage is less on a consult and ultimately your bill will be tremendously higher if the specialty group charges as a consult. Good doctors but we have had a poor experience with billing practices.

What a joke. Their billing department that is. I went on a payment plan in October of 2017. In January 2018 they called and said I had to pay more month and it had to be auto pay. Now here we are in August and they have sent it to collections with NO WARNING. I haven't even been receiving statements after paying. Thanks for wrecking another persons credit!

I had a terrible experience with Froedtert! They are suppose to be at the top of their fields but they know NOTHING about PATIENT CARE! I was a patient there and when I asked to speak to the doctors I got the run around or blatantly argued with! Which not being able to speak with the doctors doing my surgery (all of them) I ended up with complications because they screwed up as well as the doctors I saw in office afterwards! I'm currently looking at my options to sue because I refuse to pay a bill that expensive when I have issues leftover from my stay and experience from this hospital! I have always been an Aurora patient and had to go their due to an open fracture, my chart at Aurora now states that if I ever have to be sent to a trauma hospital Froedtert is unacceptable for me and my family! If I could I'd give them zero stars! Not only did their screw up leave me with physical issues but also with a mountain of medical bills I can't afford and not to mention I was out of work about a month longer than I should have! Thanks for ruining everything Froedtert! You suck!!

My experience at MCW is related to a nephew who attended to become a physician. Now a resident at a hospital in the Madison area. MCW is a great school for aspiring students. Both of my parents have given the greatest gift to their Anatomical Gift Program for the advancement of the medical students. The memorial service they held was very thoughtful and moving.

Opening Hours
Mon

Closed

Tue

5:00 pm - 9:00 pm

Wed

Closed

Thu

5:00 pm - 9:00 pm

Fri

Closed

Sat

Closed

Sun

Closed
Authorize your self with either of these to view contact details, your information will not be shared to any one
Newsletter Subscription for Virtuous Reviews LLP
One more step and you will be subscribed to our newsletters
We have sent you a verification mail on your email id, please verify it.