Lewis University
College
1 University Pkwy, Romeoville, IL 60446, USA
Claim Listing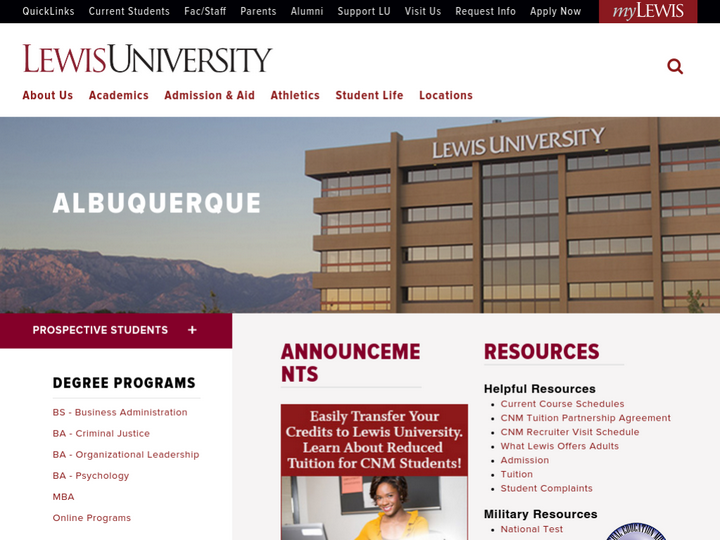 Company Description
Lewis provides more than 80 undergraduate majors and programs of study, 35 graduate programs, and accelerated programs for working adults through the Colleges of Arts and Sciences, Business, Education and Nursing and Health Professions. Premier programs include aviation, criminal/social justice, education, nursing, and business. Lewis is one of many schools sponsored by the De La Salle Christian Brothers with over 320 years of teaching experience in the Lasallian tradition.
Review & Rating

Great experience overall. I had the honor of meeting some of the nicest, most genuine people and I made the best friends in the world. Some things need to improve though: food, dorms, and some of the curriculum for majors. But would I do it all again? Absolutely. #FlyerNation

Lewis allowed me to grow as a person in so many ways. I was able to cry and laugh and fight through hardships and find joy in the good. I appreciate Lewis for every opportunity it has offered me. there's always good and bad, it's what you make of it that will decide your experience. if you give Lewis a chance, it won't let you down.

Lewis is an okay school. When it comes to the friendships I made there is was a great experience but the academics were sometimes not the best. I had some really great classes and teachers but also some teachers that were just not helpful and actually put me down. I now am attending a different school for higher education, I graduated from Lewis, I love my other school so much more in just the one semester I've been there.

While no college is perfect, I had some of the best years of my life at Lewis. A small school, but that allows you to really work with and get to know your professors, who are for the most part, great. The History and Theater departments are great and I got to meet some of my best friends there.

This wonderful institution has become my 2nd home, and I don't say that because I'm still going there for my masters after 4 years of undergrad, but because of everything about it - the staff, the professors, the atmosphere, the experiences, the opportunities, the invaluable education I've received... There is no better school out there. As cheesy as this sounds, choosing to go to Lewis was the best decision I've ever made. ❤️

Yes, its overpriced. Yes, not all professors care as much as they should. There were several classes that I just felt like a joke, and many were at or easier that some of my high school classes. They could make a lot of changes that would positively impact student lives, such as reducing tuition (obvious, and obviously not going to happen), and spending a little less on decorating campus, and improving older dorms, but overall its pretty good. It is what you make of it. Overall, the people are great, but I'd argue the education is not necessarily exceptional, but is still good very good overall.

It kind of hurts to see all the one star reviews. Which is why I will begrudgingly write my own review (sorry for the notification friend). Lewis runs in my blood, both my parents graduated from here. And since my mom is the theater manager at the Philip Lynch Theater, Ive spent 75% of my life in or around Lewis. Im graduating this coming spring and Im excited to close this chapter and move on to grad school. Ive always commuted so Ive never had to live on campus which Im sure can be a struggle. And there are definitely things I havent loved about our college, but its still a damn fine school. With a pretty beautiful campus as well. Yeah there are things that can be fixed, but thats the case everywhere you look currently in our country. All in all, our school is pretty great.

My son is entering his junior year. This school fits him. He has adjusted very well to living on campus. The one problem I have is some of the dorms need some makeover. This is why I rated a 4 instead of 5. My son has enjoyed his classes and professors. He is in one of the aviation programs, unfortunately his program will no longer be available. His professors know his name. The campus is beautiful. I do want to say Sean the freshmen counsellors, was very helpful, always answered my emails ( and there were a lot). Chris Miller in fiancial aide office had been extremely helpful. The staff at the school has always been courteous to us. There were about 2 staff members who could of used an attitude adjustment, but that is everywhere. This was awhile back. My husband and I are very happy with Lewis, but most important my son is learning and enjoying his college life. We also feel that he is in a safe environment.

Professor Miller recently published a horrifying poem that condones and promotes violence against Muslim women and tried to defend it by calling it satire. I'm really and truly disgusted that anyone would publish such a poem, let alone be allowed such a position of power over young adults.

I just finished my time at Lewis and would recommend it to anyone going to college. The professors here truly want to help everyone and they get to know you on a personal basis. Obviously, not everything is perfect (the parking), but if you're looking for a close knit community and professors who want to help you succeed, go to Lewis!

Opening Hours
Mon

Closed

Tue

5:00 pm - 9:00 pm

Wed

Closed

Thu

5:00 pm - 9:00 pm

Fri

Closed

Sat

Closed

Sun

Closed
Authorize your self with either of these to view contact details, your information will not be shared to any one
Newsletter Subscription for Virtuous Reviews LLP
One more step and you will be subscribed to our newsletters
We have sent you a verification mail on your email id, please verify it.