Omni Austin Hotel Downtown
Hotels
700 San Jacinto 8th Street Austin, Texas 78701
Claim Listing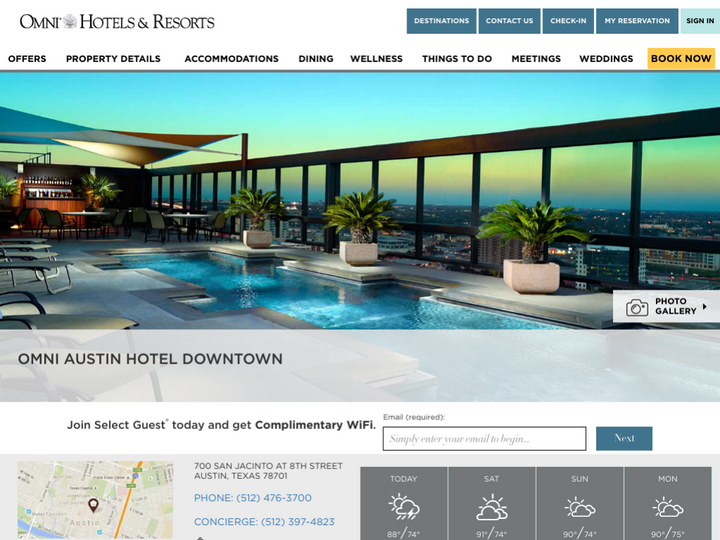 Company Description
From the lobby to the rooftop, we provide luxurious spaces for your stay in Austin. During downtime, gather in our Atrium Lounge for drinks with friends, feast on delicious fare at Ancho's, or head to our heated rooftop pool for a unique downtown experience.
Review & Rating

Very nice hotel, close to a number of local restaurants and entertainment. Extremely friendly and courteous staff. The hotel books a large number of events and is unable to meet the demands, as elevators were not an option due to extensive wait times. I supposed this would not be a problem if you have a lot of time and patience. Fortunately, my room was only a few flights from the level of where my seminar took place. Room Service was also difficult to contact and wait times for delivery of requests was often longer than expected (and I have been to many similar hotels). I also found it exceptionally difficult to find local places to deliver to the hotel.

I'll give this hotel a solid 4stars. The view of the bay bridge was beautiful. The service was top notch and the staff was friendly. If you are looking for a hotel with a nice view in San Francisco, try booking their deluxe suite and I promise, you will not regret it.

The Omni Austin Hotel was an outstanding place for our first visit to Austin. My husband and I loved the hotel and the city! The hotel was clean, staff was friendly and the food for breakfast and lunch were excellent!

The Omni Austin Hotel Downtown has excellent customer service and great gym facilities. The rooms are nothing special and are generally over-priced for the quality. The door locks/opening/closing are incredibly loud, though many hotels suffer from this. The neighborhood around the hotel is incredibly noisy. This would not be a good choice for business travel or anyone looking for a restful stay. If you need to stay in downtown Austin there are many cheaper alternatives.

It's been years since I've been here but I still remember it like yesterday! The service we received from this hotel was like that from family and friends from the moment we checked in. They made the best recommendations for nearby dining and night life and their recommendations were so amazing that we frequented them as our new favorite place for years! We mentioned that we were staying there for our Anniversary and when we went to our room there was a bottle of champagne and THE best chocolate covered strawberries we have ever indulged in! Zero issues and this was one of the nicer hotels that I have stayed in; super clean and well maintained and we also had a beautiful balcony!

Man I loved their bed in the Executive King Suites. It was so comfortable. The room was very nice and a great deal for the money. I was a little disappointed when we found out our water would be off after we checked in from 12am - 5am. I spoke with the management and they said they would give us a price adjustment if we needed. However we didn't notice any disruption so we were perfectly fine with paying the full rate of the room. I will definitely be booking this room again in the future.

I was here as part of a trade event, and the hotel staff went above and beyond to make things so much easier as an event host. The breakfast staff especially charmed me to no end. And I can say with the utmost authority that the windows here are so spotlessly clean that you don't notice them until you literally walk face-first into what is less open air and more glass door.

Great option when in Austin. Property could use updating but staff very accommodating and friendly. Rooftop pool a nice plus in the warm weather! Rooms spacious, comfortable, quiet. Centrally located to all attractions. Recommend!

This was a nice hotel. Convenient (but expensive) parking under the building. The staff was friendly and the beds were comfortable. I really liked the floor-to-ceiling windows in our room. The rooftop pool was incredibly crowded with an uncomfortable amount of PDA occurring, but that's not the fault of the hotel and we were there on a very hot day. We returned to the rooftop deck for drinks after dark and had a nice time relaxing overlooking the skyline.

Overall a great experience. Room was clean and bed was comfy. Overlooked interior atrium which was pleasant. Gym was large, and good selection of equipment and weights. Loved the water bottles, towels and apples placed near elevator for early morning exercisers. Rooftop pool is beautiful and quiet. Only drawback is coffee shop and restaurant do not open till 630 am. For early risers hitting the gym it seems a bit late. Morning breakfast buffet was a little pricey, although fruit was so fresh and tasty. Omelet station was really good! Otherwise great experience.

This place is beautiful. The entire staff is very nice and professional. The rooms are nice but bed could be a little more comfortable. The TV has some kind of digital streaks and is annoying can't enjoy TV. The rooftop pool is small but the views up here are excellent. I would definitely recommend.

Authorize your self with either of these to view contact details, your information will not be shared to any one
Newsletter Subscription for Virtuous Reviews LLP
One more step and you will be subscribed to our newsletters
We have sent you a verification mail on your email id, please verify it.