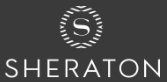 Sheraton Atlanta Hotel
#100 in USA
#59 in Atlanta
Hotels
165 Courtland Street NE, Atlanta, Georgia 30303 USA
Claim Listing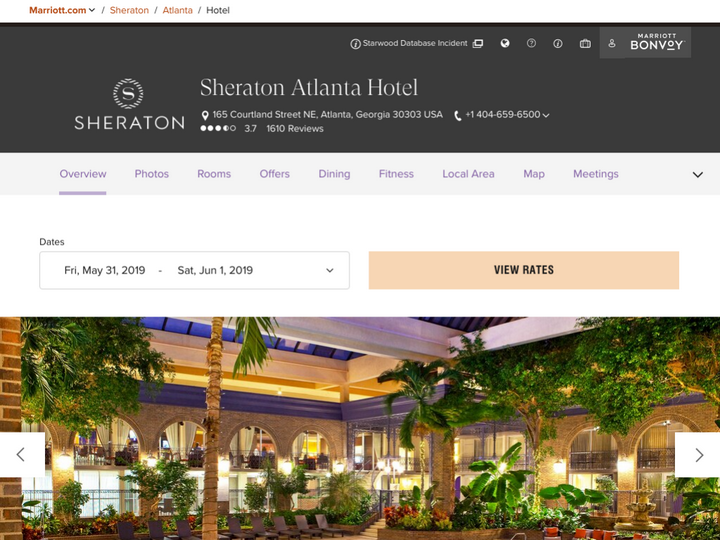 Company Description
Indulge yourself with a lavish hotel stay in downtown Atlanta at Sheraton Atlanta Hotel. Our enviable location is surrounded by sensational dining, extraordinary attractions, vibrant nightlife and is located only minutes from the Fox Theater Atlanta, Mercedes Benz Stadium, Atlanta Aquarium, Georgia World Congress Center in Atlanta, State Farm Arena Atlanta and Hartsfield-Jackson International Airport.
Review & Rating

Not a bad hotel. The hotel itself seems a little rough around the edges and is pretty much a convention center and not real family oriented. The staff are above and beyond what this Hotel dictates. From the moment you arrive til check out the are very attentive to every detail. This hotel should be a 5 star based on its staff.

I was delivering for a guest at the hotel and when I went to use the restroom after completing my delivery, one of the ladies at front desk/greeter gave me a deceptive look which I don't understand why she looked at me like that for no reason. When I tried to wash my hands in the bathroom, the water turned on for a little while but wouldn't come back on. I tried the other faucets and they wouldn't turn on either, maybe a coincidence ;). It's a nice looking hotel though.

Parking $32 a day, closed the pool for a private event for 3 days. Hallway was loud at 1am . Large groups of people standing outside on the property smoking marijuana that we had to walk through with my daughter and 6week old granddaughter to get back to the front of the hotel. Because we didn't do valet parking we couldn't unload or check in before we parked. I will never stay here again they really only care about the large events they have booked screw us normal people that are looking for somewhere to stay that is safe and comfortable. Also when I was packing to leave I stripped the bed linens to make sure we hadn't lost any jewelry and the mattress had a very large yellow stain on it . Which I brought to the attendees attention she made a face and said she would notate the room.

Great hotel in downtown Atlanta. Very reasonably priced for location and quality of facilities. Nice indoor pool, great exercise/ weight room. All and all a great choice for your accommodations while in Atlanta. Would definitely recommend and stay there again myself.

Best service. Astounding staff. Helpful. Friendly. Clean. Accommodating. Great location for sites. Overall best stay ive ever had at a hotel. Most friendly and always smiling.

Very good central location for us, close to the Peachtree Centre shopping mall and MARTA station. We were in town for a large convention, the hotel accommodated all of us perfectly and we are grateful for their help and cooperation. Friendly and helpful staff who always greeted us as we returned each evening, thank you!

My beloved 11 year old Chocolate Labrador has just been diagnosed with inoperable cancer. Wanting to spend some quality time with her I am planning a road trip, just her and I. I thought that it would be wonderful to stop in Atlanta and let her walk around a bit since she has never experienced a city atmosphere. Since you advertise that you are pet friendly I called to make a reservation. I must say that I was shocked, a little insulted and a broken hearted at the same time. Please do not say that you are pet friendly if you have a weight limit of 40 lbs and a $50.00 non-refundable pet fee..... My little girl weighs 69 lbs and has never caused even the slightest damage while staying in a hotel, much less $50.00 worth but it looks like she will not get the chance to prove that to you because she is too big.... Perhaps you should do some research on the behavior of small dogs and cats compared to those of larger dogs who are normally well trained and obedient. My rating is not based on my stay of course as you never gave us a chance however it is based on your business practices. Your advertisement is very misleading. I have to wonder how many people reserve rooms and never think to check your "pet" specifications.

Beautiful, front desk and concierge are very helpful. Never saw young men who showed their love for their jobs like the ones I met at Sheraton concierge. Respectful, ever helpful. As a visitor from outside US, they gave me advice on where to go. I wish them success in their future endeavors.

I received great service during my stay. The pool area and bar are very decent as well as the hotel room. Everything looked clean and I felt comfortable. I stayed with my 5lb chihuahua and was well received. I also had tons of luggage and they were super helpful unloading, carrying it to my room and later coming to get it from my room and assisting me on my way out. I used the Georgia State Employee Benefits Discount and felt I had a great price. Nothing cheaper and nicer in downtown area. Ubers and Lifts are few minutes on call. Close to everything. The staff was attentive and friendly.

GO SEE THE POOL! It was by far the most amazing pool and hot tub setup of any hotel in this area. We stayed here for a convention and the staff was attentive and cheerful the entire time. After visiting with all our fellow convention goers we ended up seeing every type of room they offer and from basic to presidential each one was clean, open, and in working order. They do not offer microwaves for safety reasons so keep that in mind if you bring food.

Opening Hours
Mon

Closed

Tue

5:00 pm - 9:00 pm

Wed

Closed

Thu

5:00 pm - 9:00 pm

Fri

Closed

Sat

Closed

Sun

Closed
Authorize your self with either of these to view contact details, your information will not be shared to any one
Newsletter Subscription for Virtuous Reviews LLP
One more step and you will be subscribed to our newsletters
We have sent you a verification mail on your email id, please verify it.